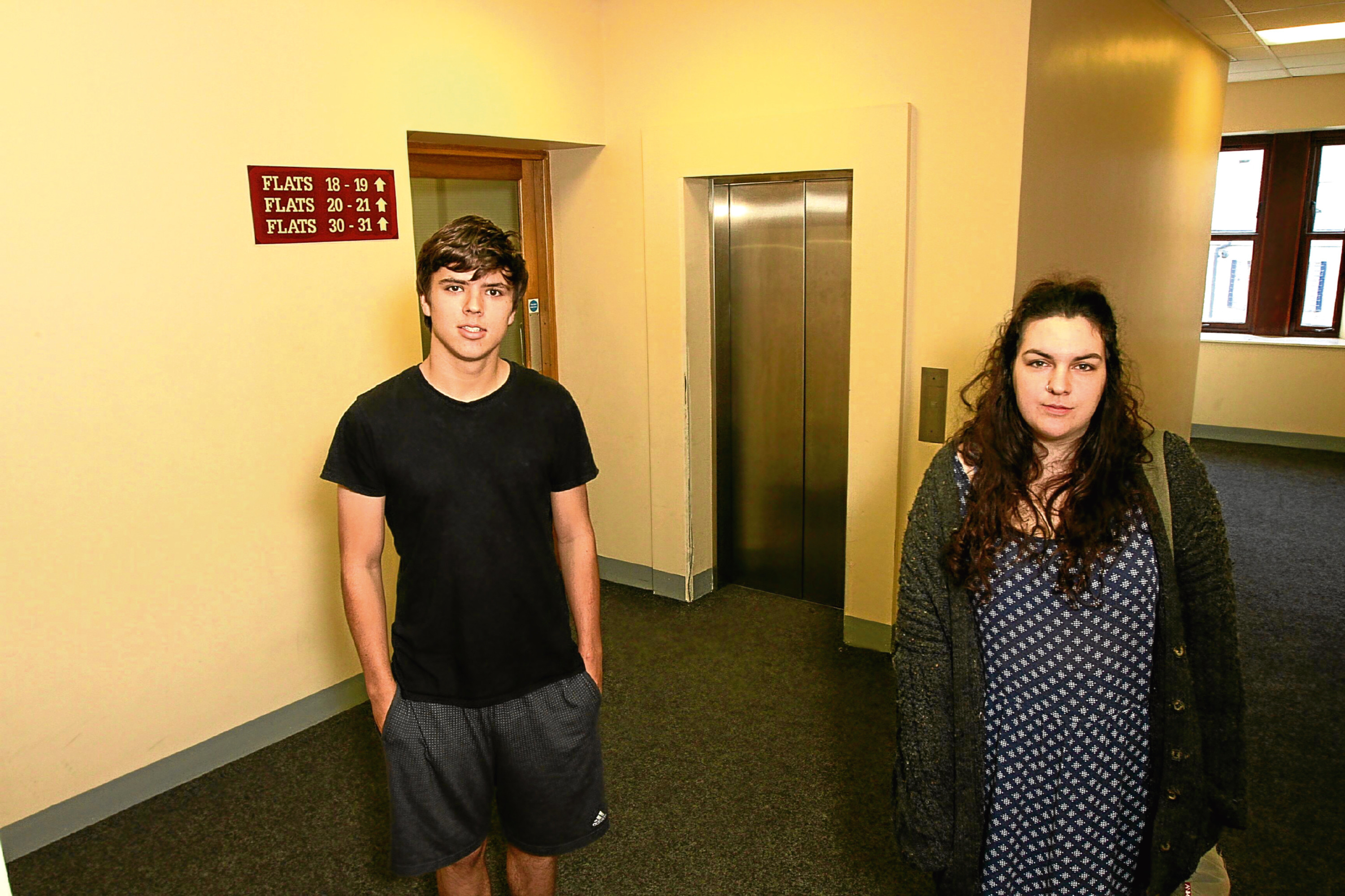 A GROUP of teenagers had to be rescued by emergency services after the lift they were travelling in broke down — leaving them stranded for almost an hour.
The four friends were stuck for 45 minutes after the lift at Pleasance Court, Polepark, Dundee, came to a shuddering stop as they headed to the fourth floor at around 10.30pm on Monday.
Angharad Griffith, 19, an art student at Duncan of Jordanstone, said that she, her flatmate Nathan McNally, 18, a computing student in Dundee, and two other friends were heading up to their flat when it happened.
She said: "All four of us were in the lift when it came to a juddering stop.
"To begin with, we weren't too worried and tried pushing all the buttons in the lift but nothing happened.
"Then we tried the alarm bell but although it made a noise, it didn't do anything. We stood there for a little while wondering if someone would come but nobody did."
To make matters worse, the signal on their mobile phones was intermittent.
Nathan said: "At that point, we were starting to get a little bit panicky."
Eventually, the group managed to get through to the fire brigade — but they were cut off and struggled to make contact again.
Nathan said: "We didn't know if they had heard what we said, if they knew where we were, or even if anyone would come to get us.
"It was a really small lift and it was beginning to get very warm and there wasn't an awful lot of room — to make it as comfortable as possible, two of us were sitting and two were standing.
"After about 45 minutes of not knowing what was going to happen, we were delighted when we could hear movement outside and realised the fire brigade or someone else had come to rescue us."
Firefighters managed to prise open the lift door as it was stuck between the third and fourth floor and a ladder was put down for the group to climb out.
Nathan said: "It was a completely mad experience and in future I'm definitely going to be using the stairs."
A spokeswoman for the fire service said: "One appliance attended from Blackness Road fire station and the firefighters freed the occupants."