A mum and daughter say they are living in fear after a gang of girls attacked the teen before standing outside her house and threatening to "batter" her.
Amelia Doig, 13, claims she has been attacked by a group of about eight girls twice in the last two weeks.
Now, she fears that the group of first years will carry out their threat to stab her if she returns to school.
Speaking at her family home in Craigie with her mum Louise by her side, Amelia, who is in third year, said the bullies are making her life a misery.
She said: "They attacked me two weeks ago and then again on Friday. They also came to my house on Friday and threatened to batter and stab me.
"I'm too scared to go back to school while they're still there. I can't go back because they will definitely come for me again."
Louise said the first time the bullies attacked her daughter they left her bleeding and bruised, lying on the ground.
Amelia ran straight home and the family called an ambulance. She was checked over by paramedics.
---
>> Keep up to date with the latest news with The Tele newsletter
---
On Friday, the girls threw juice over her. The incident, in which the girls turned up outside the family home, was caught on film.
Louise said: "A group of girls arrived outside and started shouting obscenities and threats at the window. They were shouting horrible things and saying that if she went back to school they would stab her.
"When I went to the window I was shocked to see so many outside.
"They even threatened me, asking me to go outside to face them – we were both left scared and shaking.
"Amelia is too scared to go back to school but I wouldn't send her anyway.
"I refuse to expose my daughter to these bullies who are making her life hell – this is disgusting. I've reported it to the police and the school and I want something done about these girls."
Louise has released a video of a gang of girls outside her home.
The group can be seen peering in and shouting while Louise tries to record covertly inside a bedroom.
One of the girls is puffing on a cigarette.
Louise says behind the camera: "They're threatening my house, they're threatening Amelia. They won't go away. They've been here about 15/20 minutes now. They won't go away.
"They poured juice over Amelia. They are on about chapping at the door for a third time.
"I'm shaking because I am that angry."
The girls, peering into the window, can be heard yelling: "She's videoing it" before hurling a string of swear words at Louise.
As the girls begin to disperse, Louise adds: "They're going away because they realise I have filmed them."
Louise also posted a video on Facebook opening her heart to her friends.
On it, she said: "I really need your support and help because I'm in a situation that could potentially end my daughter's life.
"I've been to social workers, the police…
"My Amelia is a very clever girl, 13 years old. She was born so early – 28 weeks – and she has always been really really small and dainty."
A spokesman for Police Scotland said: "Efforts are being made to make an appointment to speak to this lady and her daughter together in person."
Dundee City Council had not responded to a request for comment as the Tele went to press.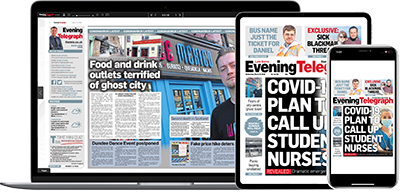 Help support quality local journalism … become a digital subscriber to the Evening Telegraph
For as little as £5.99 a month you can access all of our content, including Premium articles.
Subscribe