A Dundee cabbie has warned that rogue traders may be operating a watch scam in the area.
Paul Cooper, who has driven taxis for more than 15 years, was approached by a man in the Asda of Milton car park.
He said the man drove up to his taxi in a black car and offered him two watches in a bag.
The man had claimed he was scheduled to fly home from Edinburgh Airport and didn't want to pay tax on the items.
Paul, from Barnhill, said "alarm bells" started ringing when the man offered him a third watch for a three–figure sum.
He said the man – who spoke with a foreign accent – had not been aggressive in his approach.
Paul said he wanted to speak out to ensure others weren't scammed.
He said: "I had been sitting in the second row of parked cars in Asda.
"The guy pulled up and he spoke with an Italian accent. He was on his own in the car.
"Initially he offered me two watches in a bag for free and told me to 'take them'.
"Then he gave me a story that he was scheduled to fly home from Edinburgh Airport.
"He had a map out in his car and said he'd left Aberdeen.
"He said he didn't want to pay tax on the watches.
"After that he offered me a third watch for £250. I told the guy I wasn't interested.
"The conversation then moved to how much cash I did actually have on me.
"Throughout the conversation the guy was never aggressive.
"We never left our vehicles during the exchange and the guy reversed away and drove off."
Paul added: "Later, I had a look online and found similar scams had been happening elsewhere in Scotland.
"I contacted the police just to make them aware about what had happened at the supermarket.
"The police told me they had heard about one or two similar incidents.
"My biggest concern was that this person might come back and dupe someone else.
"He might not come back to the same place but he may strike in another area of the city.
"Someone more vulnerable might be too scared to refuse the offer.
"I would say the guy who approached me was in his mid-40s."
Police Scotland confirmed it had been made aware of the incident.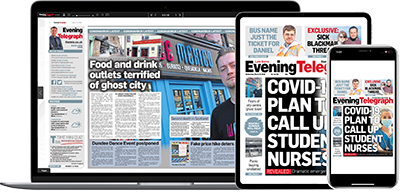 Help support quality local journalism … become a digital subscriber to the Evening Telegraph
Subscribe