Another iconic building was lost from Dundee's landscape this week.
The Keiller Factory, which closed its doors for the final time in the early 1990s, has been demolished.
It comes just a few weeks after the loss of Halley's Mill on Broughty Ferry Road.
Opening its doors more than 90 years ago on Mains Loan, Keiller went on to produce its famous marmalade.
The site also produced confectionery including boiled sweets and butterscotch.
Despite employing nearly 900 people during the 1950s, its final owners – Alma Holdings – went bust in March 1992 before the plant was sold off.
It was revealed in 2015 that Dundee City Council had given approval for the former factory to be replaced by 131 new homes.
Local residents have complained about the site having been plagued by intruders who illegally gained access to the disused grounds.
Following a major blaze in July 2015, the building continued to fall further into a state of disrepair.
However, in spite of its sad demise during the last two decades, the Maryfield plant leaves behind a legacy that once saw royalty crossing the threshold.
Keiller was at one time the largest confectionary firm in Britain, as well as boasting eight bakery shops in the city.
The factory was given the royal seal of approval three years after it opened in 1928.
Keiller supplied King George V with marmalade and Queen Mary with chocolate by royal appointment in 1931.
The Keiller estate on Mains Loan would go on to see further expansion with an additional factory space opened there in 1947.
Immortalised as part of Dundee's three Js – jute, jam and journalism – the Keiller business would change hands two more times before its demise.
It was bought over by Nestle in 1961, then it was the turn of the Okhai Group in 1981.
Connections with the royal family continued when Princess Diana visited the factory in 1983.
The Princess of Wales was pictured donning the regulation white hat and Keiller-branded white coat while chatting to staff during her visit.
Former employee Carol Glass, 53, worked in the wrapping department from 1983 to 1991 just before it closed.
She said: "I remember Princess Diana visiting the factory and it was good to see her there.
"We also had a visit from Margaret Thatcher though I can't remember if that was before or after Diana.
"Initially I didn't want to work there and only had a three-month contract but I loved my time.
"It was huge part of my life growing up and I remember speaking to some of the staff who'd worked in original Keiller Factory.
"It was great hearing their old stories.
"I remember during my time the place must have employed a few hundred folk."
Carol, who lived in Douglas at the time, added: "It was sad to see the area falling into such a state during recent years.
"It would have great if they had been able to keep the facade of the buildings, but they said they couldn't owing to the structural damage caused by the fire."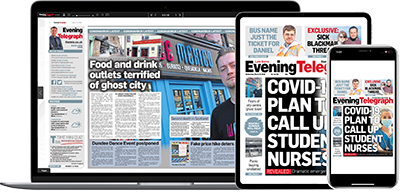 Help support quality local journalism … become a digital subscriber to the Evening Telegraph
Subscribe