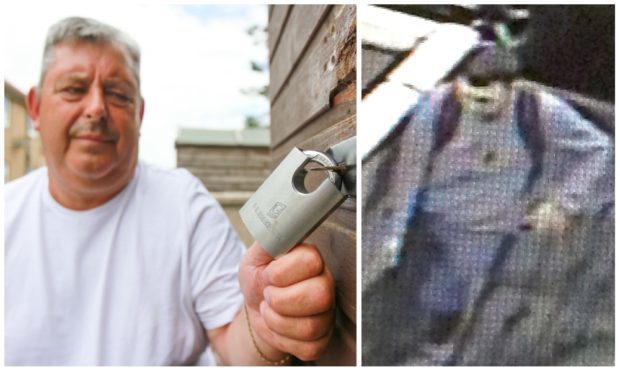 A suspected thief has been caught on camera swiping a Dundee man's bike while he ate breakfast.
Hugh Fotheringham and Nancy Finnie were shocked to find a man had broken into their shed and stolen the bike just after 9.15am on Sunday.
The Douglas couple were unaware of the theft until Hugh went out to their garden later in the day.
They were then horrified to see their shed had been broken into again in the early hours of Monday.
Police are now hunting a man who is seen clutching a bike in CCTV footage.
Nancy, 49, said: "We were actually up watching Andrew Marr while having breakfast and you can see on the CCTV footage that this guy has gone into our far-end neighbour's garden.
"One of them noticed him having a look about.
"He comes through our side gate, up to the shed and walks away with the bike.
"It's quite scary actually because we've never had any thefts around here and we've lived in this place a long, long time."
The couple had recently returned from a cycling trip during which their bikes were attached to the back of their motorhome.
Nancy believes that this caught the thief's eye and is fearful that he could target other residents in the area.
She added: "We thought, perhaps, it was an opportunist but we've got a motorhome in the drive and we had our bikes on the back so he's probably seen that and kept an eye on it.
"We phoned the police but he came back after 1am to try to get my bike and was disturbed. You can see that on the footage.
"We've got two pug dogs and they bark at just about everything. They were sitting with us on the Sunday morning and didn't hear a thing.
"We're now going to have to be more vigilant about our security and I am honestly worried he's going to come back."
A spokesman for Police Scotland said: Officers would like to trace a man described as white, in his 20s, about 5ft 10 and of slim build with short dark hair, wearing a grey top, dark trousers, and carrying a backpack.
"Anyone with information is asked to call 101 or speak with any police officer. Our reference is CR/13970/18."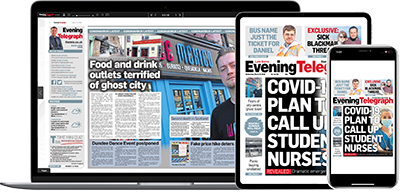 Help support quality local journalism … become a digital subscriber to the Evening Telegraph
Subscribe