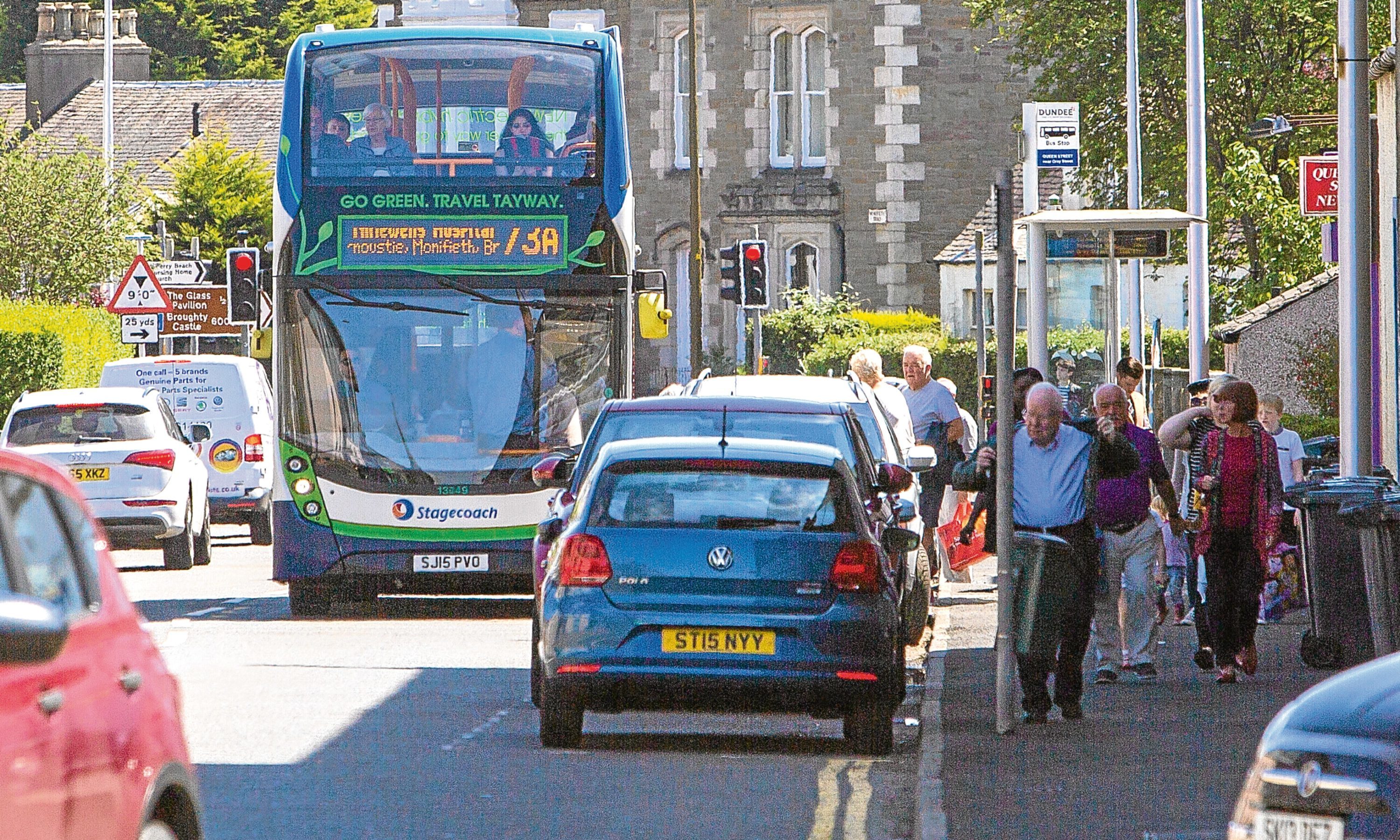 More than 10,000 Dundonians have given their views on what is great about the city — and what needs to change.
As part of "Engage Dundee", the Dundee Partnership reached out to all areas through questionnaires, freepost postcards, social media and other outlets to listen to folks' views.
Now the Tele can reveal the results of the consultation which was undertaken between June 2016 and March 2017.
In his report, community regeneration manager John Hosie said the findings will "directly inform the key priorities in local community plans" currently being developed in each ward.
Of the 10,781 respondents, 24% said they felt their area was a nice place to live, 19% said they had good amenities around them and a further 19% said there was lots of green space.
But what people wanted to see was better bus services, improved quality of pavements and increased awareness of local activities.
In fact, the areas of Lochee, the West End, Coldside and Broughty Ferry identified better local bus services as one of their top three priorities.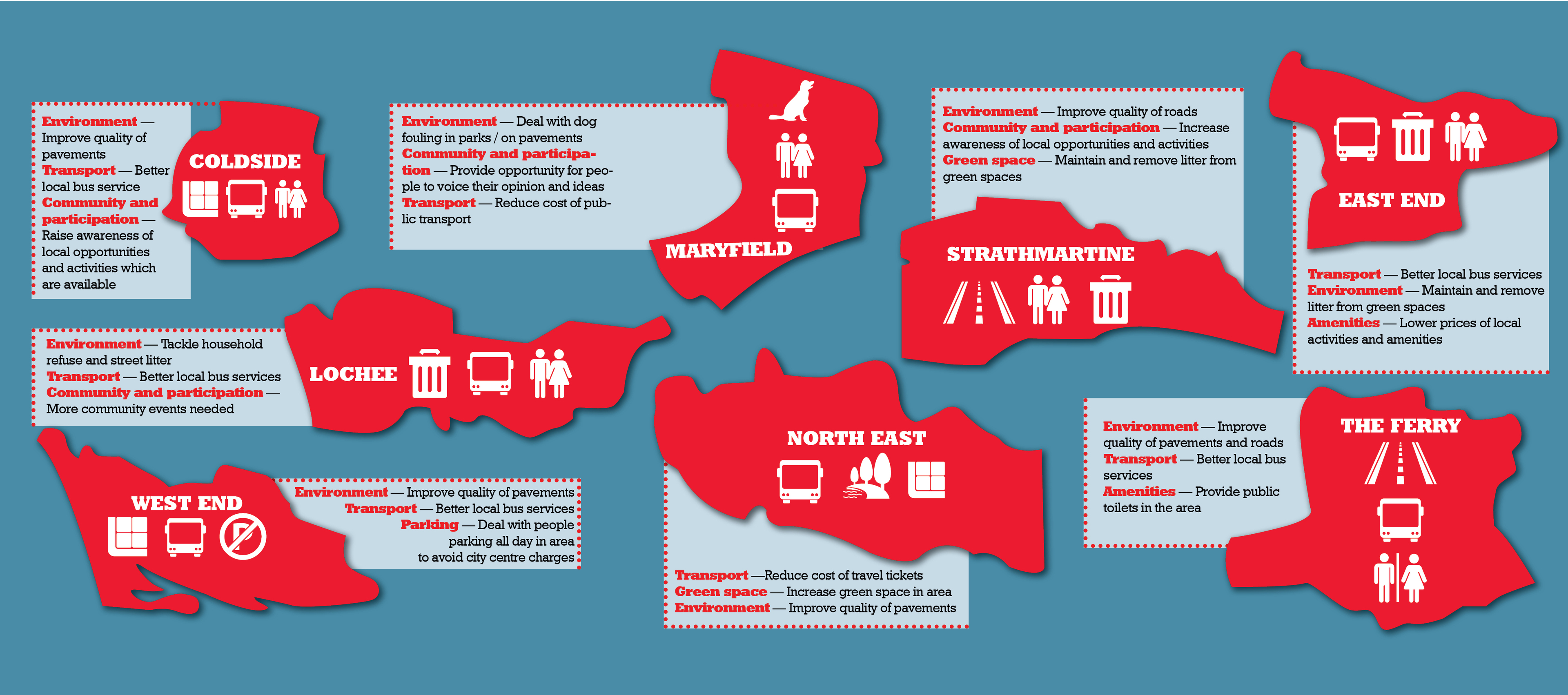 Stella Carrington, of Charleston Tenants and Residents Association, recognised her area was a problem spot.
She said: "I don't think there needs to be a massive overhaul.
"I just think the services need tweaked a bit.
"But when we have meetings with the director of Xplore it is made clear in no uncertain terms that they are a business and they have to protect their profits for their investors."
Another common problem raised was a desire for improved quality of roads or pavements in Strathmartine, the West End, Coldside, North East and the Ferry.
Peter Menzies, of West End Community Council said: "The pavements are a disgrace and there are several pavements that require dropped kerbs for wheelchair users.
"The pavements have been so dire that people have tripped and fallen and actually broken limbs."
In many of the wards, respondents said they would like to see increased opportunities for local folk to be involved in important decision-making.
Lynn Watson, of Kirkton Community and Safety Partnership, admitted very little about the results surprised her but she hoped the results of the survey would be listened to.
She said: "I've looked at the figures of Engage Dundee and I think right across the city people don't feel engaged and no one takes notice of what they think.
"Hopefully, this survey changes things and we're not just dictated to in the future like we are at the moment."
Despite the negatives, aspects of life in Dundee that was shared by many wards were the fantastic green spaces across the city as well as a thriving community spirit that is hard to find in bigger cities.
Stella added: "The Lochee ward is really becoming a better place to live and I think it's down to people power.
"The community centre is thriving, lovely allotments have opened and there are security lights at tenements.
"There's so much being done to improve the area but there's still a long way to go."
Peter added: "The community spirit in the West End is tremendous, with the growth of the community council in the last three-four years.
"Magdalen Green is looking excellent as well.
"West Fest is a great success, the bandstand has been renovated and £150,000 was raised for the playpark there too.
"These improvements have not always been led by the council — it's the locals who really have the drive to improve their area."
Another common theme throughout the city was that people felt safe in their area — particularly in Strathmartine, Coldside and the North East.
For the latter two wards, residents told the survey that was partly due to the presence of community safety wardens that made them feel safer.
But a common priority identified across all wards of the city was that many respondents still had an issue with low level or a lack of lighting in their area.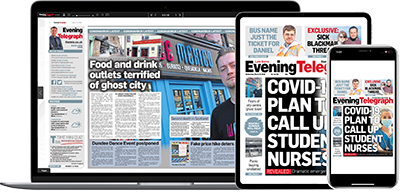 Help support quality local journalism … become a digital subscriber to the Evening Telegraph
Subscribe