Ambitious plans to turn this year's Westfest into a world record-breaker have been revealed.
The city's biggest outdoor gala day is aiming to beat the current Guinness World Record for the number of people wearing sunglasses in one location – using #SunnyDundee specs.
Sizzling plans to put the current record in the shade have been backed by the campaign group.
Organisers of Westfest approached the group about the idea of using the yellow sunglasses emblazed with #SunnyDundee.
Campaign manager Jennifer Caswell, from Dundee – One City, Many Discoveries, said she would never have thought about making a record-breaking attempt when the campaign started in April.
She said an estimated 5,000 #SunnyDundee glasses have already been distributed.
Dundonians wearing the glasses have been pictured basking in the sun both at home and abroad, including New York, Singapore and Austria.
Westfest, which is expected to welcome more than 10,000 revellers on Sunday June 3, could be the ideal location for the record attempt.
Jennifer added: "Westfest organisers approached us about the idea.
"Given there are more than 5,000 shades out there, we would certainly encourage revellers who have a pair to bring them along.
"The campaign has been incredible so far.
"Dundee has really got on board with it, especially taking pictures and uploading them online.
"We've seen pictures from Austria recently on social media.
"Throughout the whole campaign, I would never have envisaged a record-breaking attempt.
"I've been down to Westfest in previous years and it's a great atmosphere and a great idea."
A Westfest spokesman said: "All of us are hugely excited by the prospect of attempting to break a record for wearing sunglasses.
"We can confirm we are investigating the possibility and are in the process of contacting Guinness World Records to find out the exact world record as it stands as we try to arrange an official attempt.
"Westfest has previously basked in sunny weather. It would be a joy to see 5,000 bright yellow sunglasses on the day."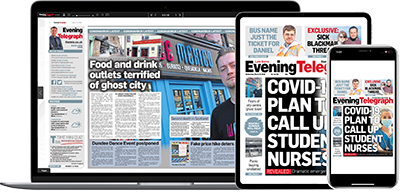 Help support quality local journalism … become a digital subscriber to the Evening Telegraph
Subscribe