Sunny Dundee lived up to its reputation last year after figures revealed 2018 was the sunniest on record for the city.
Stats compiled by the James Hutton Institute show the sun shone down for more than 1,700 hours, more than 70 days, in the last 12 months in Dundee.
This was the highest yearly amount recorded in the City of Discovery since the organisation started taking note of the weather back in 1954.
The previous record dates back to before the Lord Provost Ian Borthwick was first elected as a councillor, when 1,686 hours of sunshine beat down on the city back in 1955.
Almost a third – 500 in fact – of 2018's sunshine hours were recorded between March and May, making May the sunniest May since records began.
It was also the third-sunniest summer for the city according to the institute, with a total of 638.6 hours of sun recorded in June, July, and August.
There were 320.2 hours of sun recorded in Autumn.
It wasn't just the summer heatwave which provided the rays for Dundee, with Christmas 2018 being one of the top-10 brightest ever recorded.
However, March 2018 was one of the wettest ever.
Despite some parts of the country, including Perth and Fife, bearing the brunt of the Beast from the East storm, rain fell heavily on Invergowire, Broughty Ferry and everywhere in-between during the spring.
According to the institute it was one of the wettest recorded, with only five other years producing more rainfall. Summer 2018 was the eighth-warmest since records began, with a daily air temperature of 15.1C in Dundee.
June 28 saw the mercury reach its highest point since Dundee United last won the league, with the warmest day producing a sizzling 26.7C on the thermometer – the warmest since June 1982.
Despite the overall annual sunshine being the highest on record, the rain still fell over the summer. More than 134mm of rain fell across June, July and August in the city.
Scotland's hottest day was also June 28, with Motherwell in North Lanarkshire experiencing a searing 33.2C – the highest temperature ever recorded in Scotland.
The country as a whole experienced its fourth-sunniest summer according to figures released.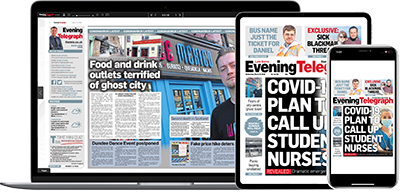 Help support quality local journalism … become a digital subscriber to the Evening Telegraph
For as little as £5.99 a month you can access all of our content, including Premium articles.
Subscribe