A shake-up of the council's voluntary redundancy and early retirement process could lead to union members balloting for industrial action.
Dundee City Council is proposing employees have no "entitlement" to redundancy or early retirement.
It comes as the administration tries to find millions of pounds' worth of savings.
Finance spokesman Councillor Willie Sawers said the only job losses would be as a result of voluntary redundancies and retirement.
Under plans to be discussed by members on Monday, the rules deciding who can take redundancy could change.
Department executive directors would "identify" employees who are eligible for early retirement or voluntary redundancy, removing the choice from staff.
Employees would not be able to nominate themselves and approval for terminating a contract would only be considered if it is in the council's "best financial interests".
Unison branch secretary Jim McFarlane said unions would oppose any changes which could take away employee "rights" to decide how they retire or volunteer themselves for redundancy.
He said: "If certain members of staff are targeted for redundancy, how will that make them feel? The whole budget is a cause for major concern. It will be difficult not to come into conflict about this.
"This could end up in an industrial action type of situation. We will be taking a ballot of members for industrial action."
A report by executive director of corporate services Gregory Colgan said: "The council faces major challenges to its capacity to continue to deliver high quality, cost-effective and sustainable services.
"Among the most significant of these are the budgetary pressures and uncertainties in public spending and rising needs and expectations of service users and citizens.
"The council's willingness and ability to change and adapt to its circumstances will be key to it responding successfully to these challenges. Our workforce will reduce as we develop new ways and patterns of working and embrace digital technologies.
"Change is not always easy but it will always present opportunities as well as challenges. Our people strategy highlights the requirement for a focus on workforce issues such as flexibility, competences, developing new skills and how we will support development."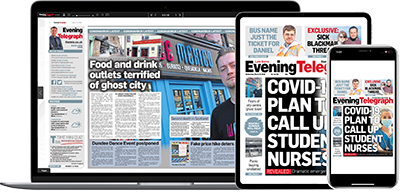 Help support quality local journalism … become a digital subscriber to the Evening Telegraph
For as little as £5.99 a month you can access all of our content, including Premium articles.
Subscribe