This week we speak with the company that will be hosting the Strictly Come Prancing contest.
Strictly Come Prancing – Dundee's answer to the BBC TV hit show – is already shaping up to be the most talked-about charity event of the year.
A dozen local couples will battle it out at a glitzy dance-off at the Apex Hotel in November in front of a panel of judges headed by celebrity style guru Gok Wan. Funds from the event will go to children's charity Help for Kids.
Today, Claire Hutchison speaks to another one of the couples taking part.
All eyes will soon be on an engaged Dundee couple, as they take centre stage in Strictly Come Prancing.
Iain McLeod, 32, and Jemma Ward, 29, from St Mary's, decided to put their names forward for the event to support Help For Kids.
Jemma is an early educator of families and also works with children who have additional support needs.
The charity is something which is close to both of their hearts.
Bus driver Iain said: "We've got two kids, so we know the importance of helping children, especially as Christmas approaches."
Jemma added: "Kids in Dundee get a lot of assistance from Help For Kids – especially through the ADHD support group.
"A lot of families are having a hard time in the city, through no fault of their own, and it's nice knowing there is a good cause to help them."
It is going to be a particularly special day for the family, as Jemma's mother, Jackie, is celebrating her birthday on the night of the event.
Jemma said: "She's getting a ticket and she's looking forward to us messing up a bit."
The couple are taking part for a bit of fun and don't expect to win.
Iain said: "I'm absolutely quaking it. I didn't realise the magnitude of it.
"I think I'll be OK but it's a new challenge – the rehearsal was quite overwhelming."
Jemma has previous experience of dancing from her school days and says it doesn't come naturally to Iain.
She added: "He's not really good at dancing at all.
"He's got no rhythm and two left feet but he's a character who is up for a laugh."
Iain describes them both as relaxed people and said they are going to have a bit of fun. He said, despite her dancing past, Jemma is quite nervous about taking part.
Iain added: "She finds it quite daunting but she will take it in her stride."
The couple agreed that the main thing they will take from the challenge is supporting a good cause.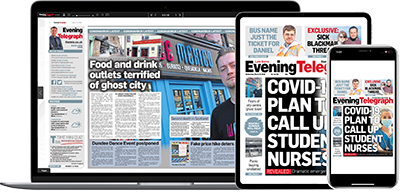 Help support quality local journalism … become a digital subscriber to the Evening Telegraph
Subscribe