Stress among NHS Tayside staff has resulted in workers missing almost 7,000 days of work in the past year.
A freedom of information request revealed that 535 NHS workers in the region have taken 165,543 hours off due to stress-related sickness in 2017/18 – equivalent to 6,897 days.
Health board figures show that sick leave was recorded as "anxiety, stress, depression and other psychiatric illnesses".
The profession that lost the most staff was nursing and midwifery, with 91,809 hours lost between 291 workers.
One nurse, who asked not to be named, said staff were "burned out".
They said: "There is definitely a lack of nursing staff, causing an increased workload for those still working.
"This has the knock-on effect of causing yet further stress and anxiety on yet more nursing staff.
"One of the outcomes of this is that undoubtedly patient care is suffering.
"The situation has got so bad that nurses who are signed off legitimately are being harassed while off to find out when they are coming back.
"And the situation is only going to get worse as we are facing a situation in the next couple of years where a raft of experienced nurses are due to retire."
There were 27,698 hours lost by 100 staff in support services while 75 administrative staff took a total of 22,422 hours off in the year for stress-related illnesses.
Dental support services lost the least amount of hours due to stress, just seven staff members taking a combined 1,984 hours off, or just over 82 days.
The remaining sick leave was taken by staff in healthcare sciences, medical and dental, the allied health profession and other therapeutic services.
NHS Tayside assistant chief executive/strategic director of workforce Dr Annie Ingram said: "We recognise that having a healthy and effective workforce is key to delivering high quality healthcare.
"NHS Tayside is committed to lifelong health and wellbeing of staff and places equal value on both physical and mental health.
"We work closely with staff representatives to tackle the impact of issues that may affect our employees' mental health and wellbeing.
"Through our policies, training and provision of specialist services like occupational health, our Wellbeing Centre and our colleagues in Public Health signposting national and local support services, we seek to actively support individuals who experience difficulties.
"We also promote 'Live Positive', an online stress management resource to promote health and wellbeing for staff.
"This is concerned with stress arising from the workplace, however, it is recognised that stress may be influenced by a variety of factors, including life outside of work.
"Given so many of us can be affected by stress, creating an environment people feel more relaxed to talk about mental health and stress-related issues is key to ensuring we give people the support they need."
A Scottish Government spokesman said: "Staffing levels within NHS Tayside have increased by 5% under this government and the welfare of NHS staff is critically important.
"Over the past decade, NHS Scotland sickness absence rates have fallen, from 5.55% in 2007 to 5.39% in 2017/18.
"NHS Tayside's absence rate of 5.03% in 2017/18 is lower than the national average.
"Every health board is required to have policies in place and to comply with national policies on managing health at work, which includes mental health and wellbeing."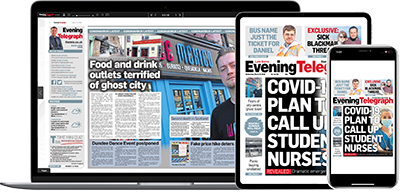 Help support quality local journalism … become a digital subscriber to the Evening Telegraph
For as little as £5.99 a month you can access all of our content, including Premium articles.
Subscribe