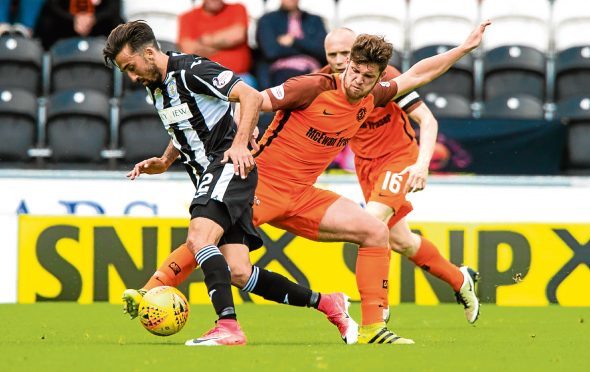 For Stewart Murdoch, one of the big things about being at Dundee United is playing at Tannadice.
Problem is he knows pretty much every opposition player in the Championship will relish running out there as well.
And the Tangerines defender accepts that's just something he and his team-mates will learn to live with.
"There is a factor of boys coming to Tannadice and viewing it as the biggest game of the season for them. They really want to impress.
"This is a great place to come and play football and people look forward to it. That's maybe even more so the case this year because we are the favourites.
"Last year it was Hibs who were the favourites and pulling in massive crowds. We're the team doing that this season and it means our home games are going to be difficult because people will be desperate to impress when they come here.
"Do well here and there are more people watching and more people taking note."
That's not the same as saying teams will come to Tannadice and have a real go.
As was the case last term, in the games so far this year United have already discovered the policy of most visitors is going to be to shut up shop.
Brechin did it last month and almost escaped with a point and Murdoch does not expect Dumbarton to be any different when they arrive today.
"You just have to look at Brechin coming here the other week, the quality they showed and how difficult they made it for us, to see this one won't be easy.
"Dumbarton will be set up really solid, probably a four and a five with just one up top. So it's going to be difficult to break them down.
"They were also a bit of a bogey team for us last year. They still have quality as well because they scored a few goals against us last season, so we need to be aware of that threat as well."
United will have the benefit of some inside knowledge in the shape of Sam Stanton. The man on loan from Hibs for the season had a similar spell with the Sons.
Even more than any info he's able to provide, Murdoch believes the real benefit of having the midfielder is the quality he's added to the team.
"Sam has done really well. He covers the ground well, plays in a few positions and I am sure he will pop up with a few goals for us.
"He's a great addition to the squad for this year. Hopefully, in this one, he can show Dumbarton what he did for them last season and hurt them."
As well as trying to improve on last term's record against the Sons that read just one win from the four league clashes, an added incentive is to make up for the way-below-par showing in the 3-0 defeat at St Mirren in the last league outing.
While in terms of the long term, Murdoch does not read too much in what he sees as one off-day, he doesn't hide from the fact it was a sore one.
"No one is playing down the St Mirren game. There was a really negative attitude after it and we were all very disappointed with the result and the performance.
"But one thing we did say afterwards was, if you are top at the end of the season, no one is going to be worrying about the result of the fourth game of the season.
"That doesn't change the fact we do know we need to be much better, and we will be.
"Since the game, it's all been about Dumbarton and working towards this, working as hard as we can for each other and there is a real focus on this game because we want to show we are better than that."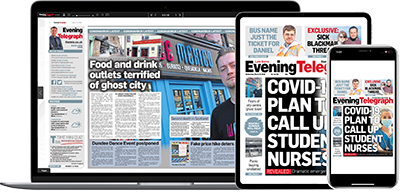 Help support quality local journalism … become a digital subscriber to the Evening Telegraph
Subscribe