It's five, six, seven . . . nine weeks until pop band Steps dance on to the stage in Dundee for their first show in the City of Discovery for two decades.
And one of the band's stars has revealed how they're taking their live act in a different direction by bringing it to some of Britain's most unusual — and scenic — outdoor venues.
The Summer of Steps Tour will take pop fans on a journey through the group's hits, with support from fellow chart favourites Blue and Aqua.
As the Tele looks back at other iconic pop concerts held in the city in the second magazine in our Feel the Noise series — free in today's paper — we spoke to Faye Tozer about the group's plans for their new tour, which is taking them to football stadiums, cricket grounds, castles, open-air theatres, parks and even an old naval college.
"Oh my goodness, we are so excited," Faye told the Tele.
"We have always been so lucky with our Scottish fans and had a lovely time when we are up north."
The tour will see Steps perform tracks from 2017 album Tears on the Dancefloor, as well as classics such as 5,6,7,8 and Deeper Shade of Blue.
Faye, along with bandmates Lee Latchford-Evans, Claire Richards, Lisa Scott-Lee and Ian 'H' Watkins, celebrated their 20th anniversary last year.
They last played in Dundee in 1997, when they performed at Whitfield Activity Complex.
But the show on Friday June 22 will be on a whole different scale — with thousands of fans expected to pack Slessor Gardens at the Waterfront.
And this time, fans can expect plenty of the well-known hits, according to Faye.
"Scared of the Dark always goes down well, and Tragedy is always a good finale," said Faye, promising a lively show. "We've got some fantastic dancers. They are incredible."
Discussing the move away from arenas to the great outdoors, Faye, who played the SSE Hydro in Glasgow last November, said: "It's a completely different style of show when you do an outside venue, with costumes and lighting.
"You have to make it a lot more portable. It's really exciting for us to be able to perform our music in a different way."
Plenty else is different in the music industry since Steps last took to the stage in Dundee.
"The costumes have changed a lot over the years," said Faye.
"When we are doing a show we want people to see what we are doing and that we are making an effort.
"We want people to see things and go, wow, look at that."
Faye has herself spent some time in the Tayside area through theatre work.
She performed at Webster Theatre in Arbroath as the lead, Christina Black, in the comedy stage show 69 Shades of Black.
She also appeared in the lead role of Eva Cassidy in the Over the Rainbow UK tour.
Faye says she expects a varied audience when she returns to the region — from youngsters to grannies getting their groove on.
She said: "It's been really exciting to do all the arena tours last year and see the old faces that have been around for years.
"But what was quite interesting was there were people who were 20 years old."
When asked what comes next for Steps following their tour, Faye laughed and said: "One thing at a time."
The tour opens on May 26 in Cheltenham and runs until July.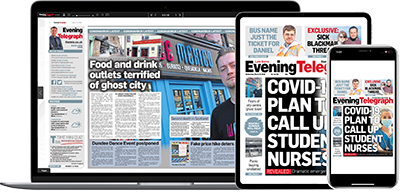 Help support quality local journalism … become a digital subscriber to the Evening Telegraph
For as little as £5.99 a month you can access all of our content, including Premium articles.
Subscribe