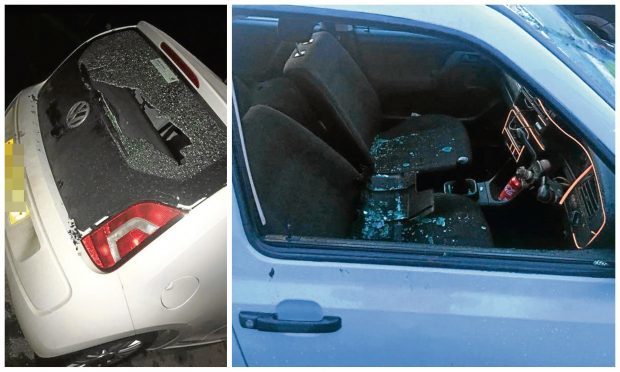 Two cars were vandalised within hours of each other — with one owner having his vehicle's steering wheel stolen.
The cars were targeted some time after 6.30pm on Tuesday or into the early hours of Wednesday, around a mile apart from each other in Arbroath.
Jade Gibson, a dental nurse in the Angus town, said it was "a horrible way to start the new year" when she discovered the damage to her Volkswagen Up, which was parked in West Abbey Street, near to her house.
Jade, 21, said: "A friend had driven past the car and texted me to say my window had been smashed.
"I called my other friend whose house it was left outside to check it for me and she sent me pictures of the damage.
"I went straight away to see what had happened, and the window was smashed.
"There was glass all over the road so I checked inside to see if anything was missing, but nothing was. However, the back seat was covered in glass.
"I'm still waiting to find out from police if they need to see the car before it gets fixed.
"I don't think there's any CCTV where it happened, so I feel pretty stuck as to what to do.
"I got the car in July 2016 so it's still pretty new.
"It was easy to get the insurance company to send someone out, but it's still a horrible way to start the new year."
Another vehicle, parked in the Timmergreens area of the town, had the driver's window smashed — and the steering wheel stolen.
The owner of the Volkswagen Golf, who asked not to be named, said: "The back door had been prised open with a crowbar or something, and my front driver's window was smashed.
"The steering wheel has been taken, but nothing else, which is strange.
"I'm just hoping someone saw or heard something."
Jade added: "The car in Timmergreens looked like a break-in.
"At first I thought mine was only a smashed window, but I looked at the car closer and it looks as if someone was trying to get in the boot."
The damage to the two vehicles has been reported by the owners to Police Scotland.
However, officers could provide no update on the incidents at the time of going to press.
Both Jade and the owner of the Golf have also shared images of the vehicles on social media in an attempt to track down who is responsible for the damage.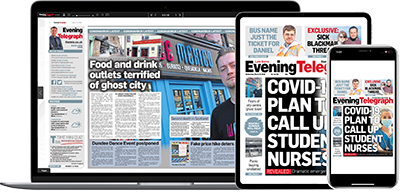 Help support quality local journalism … become a digital subscriber to the Evening Telegraph
For as little as £5.99 a month you can access all of our content, including Premium articles.
Subscribe