The company appointed to oversee the administration of Dundee firm McGill has issued a statement.
It says 374 staff have been made redundant with immediate effect.
KPMG LLP say 55 workers will remain employed during the administration process.
The administrators' statement in full:
Blair Nimmo and Geoff Jacobs of KPMG LLP were appointed as joint administrators of McGill & Co Limited (the Company) on Friday February 1.
McGill & Co was established in 1981 as a specialist building contractor. The company provides services to clients in the residential, commercial and industrial sectors from its headquarters in Dundee and ancillary offices in Glasgow and Edinburgh.
The company trades through five divisions; mechanical & electrical services, facilities management; social housing; private residential; fibre & wireless.
In recent years, McGill & Co has suffered from challenging trading conditions in the construction sector and has encountered disputes and delays in payment for a number of significant projects. Reduced margins, combined with contract and payment delays and a downturn in billable work during the winter months, left the company with a significant funding shortfall.
Following an assessment of the immediate funding requirement, the directors developed a business turnaround plan and approached a number of parties to attempt to secure additional funding. Ultimately, as McGill & Co was unable to secure the funding it required, its only option was to be placed into administration to protect the creditors' position as best as possible.
Upon appointment, the joint administrators had no other option than to make 374 of the company's 429 employees redundant with immediate effect.
The 55 remaining employees have been retained to assist the joint administrators to realise the company's assets, including four freehold properties, numerous contracts, an extensive order book and construction equipment. Joint administrators are rapidly exploring whether an early sale of some of the business and assets can be secured.
Blair Nimmo, global head of restructuring for KPMG and joint administrator, said: "McGill & Co Limited is a well-known, long established business and provides a significant source of employment, particularly in Dundee both directly and through the supply chain. Disappointingly, market conditions and contract related disputes have required the business to cease trading. We will do everything we can to seek a buyer who may be able to protect some of the business and maximise recoveries for creditors.
"We would encourage any party who has an interest in acquiring any part of the business and its assets to contact us as soon as possible.
"We will be working with employees and have already initiated matters with relevant government agencies to ensure the full range of support is available to all those affected."
Workers were told the news at meetings in Dundee, Edinburgh and Glasgow this afternoon.
The firm employs about 450 staff, with 200 in Dundee and the rest in Edinburgh and Glasgow.
The company works across commercial, residential and the education and healthcare sectors and has been involved in a number of high-profile building projects including Dundee's Olympia Leisure centre.
The firm, headquartered in Harrison Road, has been operating for more than 30 years.
McGill has been involved in many major building projects in Dundee in recent years.
Only last month it announced that its second new build-development of eight homes at Fairmuir Road is well underway.
Its first development was five homes in Dundee as at the site of a former nursery in Cotton Road.
In December 2017 McGill was awarded a £300k contract to carry out the electrical work on Phase 2 (Block B) of the new build luxury waterfront apartments on Riverside Drive, Dundee by H&H Properties (UK) Ltd.
McGill has been part of the Robertson team delivering schools for the past 10 years and its most recent projects include Timmergreen Primary School, Arbroath, Sidlawview Primary School, Dundee and Baldragon Academy, Dundee.
Current live projects include Kinross Primary School and Coldside Primary School, Dundee.
McGill has been employed more than 300 apprentices since the early 1980s. Apprentices become electricians, plumbers, heating engineers, security engineers, fibre optic engineers and administrators.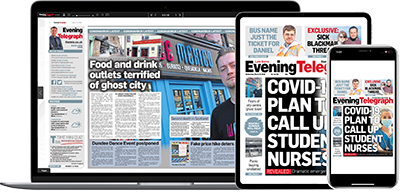 Help support quality local journalism … become a digital subscriber to the Evening Telegraph
Subscribe