Local beauty workers were left "starstruck" after spotting celebrity Vernon Kay in the street before being interviewed for American TV.
Marianne Williamson and Ellie Whyte were opening up Inner Balance Scotland, a beauty and spa treatment centre, on Carnoustie's High Street at around 10am today when they spotted the English presenter.
Not being shy, shop owner Marianne, 45, greeted the former Family Fortunes host who was being accompanied by a camera crew.
Kay, 44, is in the area working for the Golf Channel covering The Open.
Marianne, who has ran the spa for 18 years, said the chance encounter with the TV personality was a bit surreal.
She told the Tele: "I heard from my friend who adores him just last night that he was in town.
"Then this morning it was bizarre, I was opening up the shop and spied him in the street with his crew.
"I shouted over 'morning' and he said hello and asked if he could do an interview.
"I'm a bit older than Vernon but he's very handsome. I was a bit cheeky and asked him for a photo but he was very happy to pose for one
"Ellie has a friend who really likes him so she was happy to get a photo with him – she was a bit starstruck.
"He was just asking about Carnoustie and the best places to visit, the pubs to go to, that kind of thing."
The local area is is set for an influx of visitors over the next few days as The 147th Open tees of in the Angus town tomorrow before the climax on Sunday.
Marianne said Vernon Kay was the first such famous face she had spotted but thought the overall attention was great for the area.
She added: "Golf is great for Carnoustie and the town is now starting to have a buzz about it."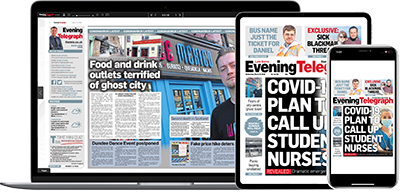 Help support quality local journalism … become a digital subscriber to the Evening Telegraph
For as little as £5.99 a month you can access all of our content, including Premium articles.
Subscribe