The opening date for a new drive-through coffee shop on the Kingsway is less than two months away.
The company has announced a Starbucks will open at the edge of the West Gourdie Industrial Estate at the end of June, creating 25 new jobs.
Construction group Kilmac, which has built the outlet, claims it is the second "American-style" drive-through of its kind under the Starbucks brand in Scotland.
A spokeswoman for Starbucks told the Tele the branch would be operated through East Lothian-based franchisee, Burton & Speke.
She said: "We are delighted to confirm that we will be opening a new Starbucks Drive Thru store, in partnership with Burton & Speke, at Kingsway West in Dundee at the end of June.
"The new store team of 25 partners (employees) will be recruited locally and we're looking forward to bringing our quality coffee to the local community."
Starbucks is one of two operators to have committed to the £4.5 million development on the city's edge alongside national pub/restaurant chain Marstons.
Richard Kilcullen, director of Kilmac, said last year that the Starbucks project would be a "feather in Dundee's cap".
Today, he said the coffee shop giant had been so pleased with the build – Kilmac's first in Dundee – that it is in discussions with the firm to work on more projects down the line.
"We were really happy with how quickly we were able to get the project going, with the help of Dundee City Council, and the fact we got it built in 12 weeks," he said.
"We also have the project for Marstons, and I believe they are finishing off their design now.
"On the back of the Starbucks build we are discussing developing more projects with them in future."
The West Gourdie development is one of several in the works along Dundee's ring road.
A plan to develop a small retail park at Kingsway East on the former site of the ABB Nitran factory was approved by city councillors in June last year.
The development will feature a Lidl supermarket, another drive-through coffee shop linked with Starbucks rival Costa and other retail and industrial units.
A provisional opening date of March 2020 has been set for the Lidl store.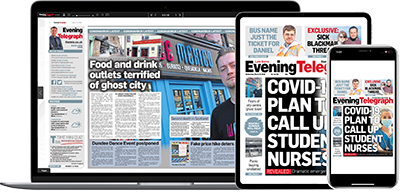 Help support quality local journalism … become a digital subscriber to the Evening Telegraph
Subscribe