The number of staff hours lost at Dundee's Jobcentre due to stress and depression has more than trebled in the past year.
The Tele has learned that in 2017/18, a total of 564.4 hours were lost due to mental health-related illnesses.
The total for the previous year was 186.2 hours.
The Tele sent a freedom of information request to the Department of Work and Pensions (DWP) asking how many hours of time off had been logged in 2018/19 to date related to mental illness – including stress, depression and anxiety – by staff at the Jobcentre Plus in Dundee.
The Tele also asked how many staff at the centre had been provided with counselling.
In its response, a spokesman said: "DWP takes the health, safety and wellbeing of its staff very seriously and has a number of internal and external support mechanisms in place for this purpose – including the use of counselling services.
"The counselling service is confidential and is based on self-referral."
Executive director of the Dundee Association for Mental Health, (DAMH), Wendy Callander, said she is aware of absences at the DWP in Dundee due to mental health issues.
However, she said steps were currently being taken to help workers who are suffering from stress.
Ms Callander said: "I don't think the DWP is any different from any other large organisation in the city in terms of absence rates.
"We are making progress in reducing stigma and in making it OK to talk about mental health so it shouldn't come as a surprise that more people are now being open and honest with their employers in discussing mental health issues.
"The local Jobcentre is taking a positive and proactive approach to mental health in my view.
"DAMH recently delivered six courses of mental health awareness training for Jobcentre staff that included modules in self care so that staff are more informed regarding how to look after their own wellbeing."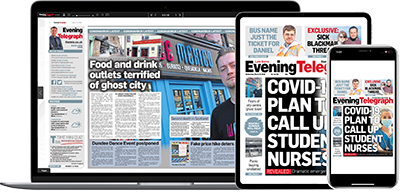 Help support quality local journalism … become a digital subscriber to the Evening Telegraph
For as little as £5.99 a month you can access all of our content, including Premium articles.
Subscribe