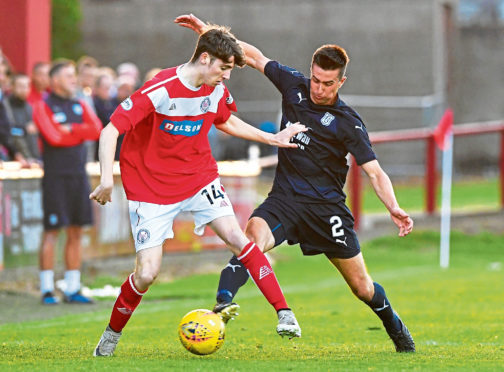 Defender and some-time skipper Cammy Kerr believes Dundee are ready for this weekend's Premiership kick-off against St Mirren at The Simple Digital Arena in Paisley.
A week ago, in the wake of their shock Betfred Cup defeat at the hands of second-tier Dunfermline, there might have been doubts over such a statement.
But after solid successes against Peterhead and Brechin City to secure qualification for the knockout stages of the competition, Kerr firmly believes the Dark Blues have got their preparations back on track.
"We feel we are ready. You look at that first game of the season when the fixtures come out and your aim is to be ready for it. We feel we are," said the full-back, who's impressed on both sides of the defence during the Betfred group games.
"It will be a tough one away at St Mirren but we have to go there and think we can win. We have to go down there with a confidence about ourselves and I am sure we will bring a big support."
Dundee are expecting to be well backed on Saturday and Kerr stresses how important knowing a large chunk of the crowd will be made up of his fellow-fans is important.
"There's always a buzz going into the first league game and I'm sure you'll see a big crowd going down there," he added.
"It's great when you run out and see them behind the goal at St Mirren and I'm really looking forward to it. It makes a difference and it's up to us to give to the fans going down a performance and a result they deserve."
He knows that wasn't the case in the 1-0 reversal against the Pars a week past Sunday but, having managed to get through in the cup, he views that result as one that might have had hidden benefits.
"Dunfermline might have been a wake-up called we needed. You try not to read too much into games like that but we under-performed and we were disappointed in ourselves.
"Especially when it was on the TV and we kind of looked flat. We didn't play like we can and it was disappointing
"What's important is there has been a reaction in the two games since and that sets us up well for going into the league."
Of course, St Mirren will represent a big step up in quality from the opposition faced in those wins over the past week.
However, against Peterhead the team put in a professional away performance and Saturday's success over Brechin was considerably more emphatic than the 2-0 final score might have suggested.
"It was good against Brechin. It was convincing and we could have had more goals, we definitely could have had more," Kerr went on.
"Fair play to Brechin because they held out well. They kept going and deserved credit for that and their goalkeeper was great.
"That's the reason he got Man of the Match and deservedly so. It's a compliment to us as well because it shows we kept him very busy throughout the game.
"He's pulled off some great saves. Gowser (Paul McGowan) could have had a hat-trick but was denied by some really good saves.
"I could have scored as well near the end, and I should have, but I sliced my shot. Then Jean Mendy, Elton Ngwatala and Kharl Madianga all could have scored as well."
Just the fact so many different players got into scoring position was pleasing for Kerr and he revealed that didn't happen by accident.
"It's not only the strikers we need in that box, we need midfielders, full-backs, whoever it may be, to be getting into the box and making it awkward for defences."