On June 23 1894, painter and decorator Stewart Small signed his name on the wall of a kitchen in which he was working at a property on Bell Street.
Little could he have known that 125 years later his signature would be seen by his descendants who have carried on the business in his name.
Mr Small's great-grandson, also called Stewart Small, was contacted by business associate Graham Low of the Forseti Group who uncovered the handwriting while carrying out work on the property.
The inscription appears to have been written by Mr Small and a John Harnie on behalf of painter and decorator Henry Drummond, which was based on the Nethergate.
Stewart, 62, said the discovery had become a real talking point in the family.
"Decorators will often sign their name when working in properties and my sons often say they are always looking to see if some of their forebearers did the same," he said.
"It came as a marvellous surprise to see my great-grandfather's name had been signed on a wall in 1894.
"Even more spookily, it is the birthday of one of my sons.
"Henry Drummond was a company that my great-grandfather served his time with.
"At that time it was the go-to company of the day.
"He left their employment to form his own company that same year and the rest is history.
"We are now in our fifth generation as a decorating company, 125 years later.
"We reckon this is one of the oldest messages to be left on a wall.
"When Graham contacted us we couldn't believe what had been unearthed.
"They must have worked on the building when it was brand new.
"A lot of decorators will leave a signature as a hallmark before they complete a job.
"The interesting aspect for us is that it must have been just before our company was created.
"I'm delighted it was brought to our attention.
"It was great to see the first generation of the business etched on the wall."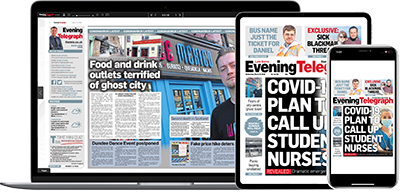 Help support quality local journalism … become a digital subscriber to the Evening Telegraph
Subscribe