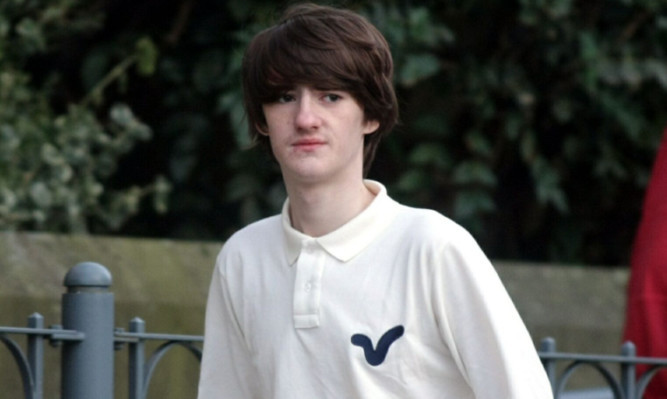 A thug dubbed Spider-Ned was today jailed for stalking his ex on the web.
Connor McLeod earned the moniker when he climbed down the outside of a 14-storey tower block to evade police in 2011.
He furthered his climbing credentials in a bizarre 2015 incident that saw him brutally attack ex girlfriend Ashleigh Deans – before climbing a 10-foot bush on to a roof, sparking a two-hour stand off that saw him hurl roof tiles and a phone at cops.
Today he admitted stalking Miss Deans within months of being released from a 17-and-a-half month jail term imposed over that incident.
Dundee Sheriff Court heard that McLeod used social media to target Miss Deans – issuing death threats and threatening to post "intimate information" about her online.
The yob had denied the charge and forced Miss Deans to give evidence against him behind closed doors in front of a jury.
But as soon as she finished giving her evidence he admitted the charge.
She told how she received a string of messages via Facebook in which McLeod repeatedly threatened her with violence and stated he would "end her life".
The thug also made repeated phone calls to her, again threatening her with violence and stating he would kill her.
McLeod then went on to threaten to post intimate details of their relationship on social media.
McLeod, 21, a prisoner at HMP Perth, pleaded guilty midway through his trial to an indictment containing a single charge of stalking committed between April 20 and June 16 last year at addresses in Dundee and Carnoustie.
Sheriff Alastair Brown ordered McLeod to be returned to jail to serve the outstanding 169 days of his sentence for the earlier assaults on Miss Deans.
He was then ordered to serve a consecutive 10-month sentence on the stalking charge.
McLeod earned the name Spider-Ned in 2011 after bizarrely scaling down Dalfield Court – a 14-storey tower block near Dundee city centre – as police quizzed his mum in the block as to his whereabouts.
He was then involved in another stand-off with cops when they finally found him on the fourth-floor ledge of another building.
The court was told that in that offence police turned up to check he was sticking to a bail curfew.
Cops went away and returned at 11pm to speak to McLeod – and was allowed to go back to the living room to get his jacket.
When he didn't return police discovered he had climbed out the window and was scaling his way down the outside of the building.
He made it to the bottom before running off – with cops later finding him on the outside of the fourth floor of a building in nearby Stirling Street.
At one stage during the court proceedings a sheriff told him he was "hanging by a thread" in terms of going to jail.
He was eventually sentenced to a year in prison.
Then in 2015 he lived up to the Spider-Ned reputation with another rooftop stunt.
McLeod first brutally assaulted his ex Ashleigh Deans in two separate attacks after a party on March 7 this year.
He then ran off and hid in bushes as cops scoured the area looking for him.
When they found him he climbed the 10-foot tall bush – before scaling the outside of a random house in Dundee's Cobden Court in an incident that echoed his previous crimes.
That sparked a two-hour rooftop stand off, in which McLeod ripped up a roof tile and threw it at cops, hurled his mobile phone at officers and spat on a constable from his perch.
He received a 17-and-a-half month jail sentence for that incident.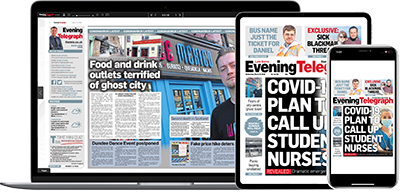 Help support quality local journalism … become a digital subscriber to the Evening Telegraph
Subscribe