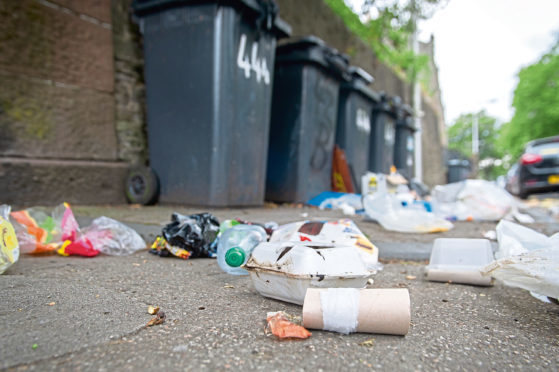 Fewer staff are having to do more work after the city's street cleaning budget was slashed by a quarter in just four years, it has been claimed.
Figures obtained by the Tele show that spending by Dundee City Council on street cleaning has fallen by 26% since 2014.
The annual budget – which covers work such as litter-picking, equipment maintenance and cleaning up graffiti and gum – has dropped from £3.1 million to £2.3m.
In addition, the number of street cleaning staff has fallen by 24%, from 106 staff to 81, in the same period.
In comparison, neighbouring local authorities have either made fewer cuts or boosted spending.
Angus Council's spending fell by about 3% in the same period, while Perth and Kinross Council's spend rose by just over £100,000.
George Barr, local convener of Unite's environmental division, said: "The council has been spending money on equipment but not on the manpower to operate the equipment.
"Basically we have a situation where there is less money, fewer staff and more work. The council is rolling out more Eurobins but we don't have the resources to empty them.
"People are continuing to load black bags beside the bins and the binmen are having to go along and try to keep it all clean.
"It's tidy at the Waterfront but the further you go into town the more you see rubbish lying around."
West End Liberal Democrat councillor Fraser Macpherson, who has repeatedly opposed street cleaning cuts, said the figures were "very concerning".
He said: "While we all appreciate the financial pressures facing the council, it is clear street cleaning has borne a larger and unfair share of revenue cuts and the bottom line is there are now too few staff and too much pressure on the staff that are left.
"The staff left do a very good job but there must be sufficient resources to achieve a high quality service."
Mr Macpherson added he had received more complaints about street cleaning than any other issue for the first time in 17 years as a councillor.
"SNP councillors have to act and resource street cleaning sufficiently so we are not just Scotland's sunniest city but again become Scotland's cleanest city too," he added.
Councillors approved further cuts earlier this year, with neighbourhood services convener Kevin Cordell using his casting vote to continue the restructuring programme.
A council report in April cited projects such as the Pride In Your City campaign – which promotes responsible citizenship towards dog fouling and litter-picking – as examples of successful streamlining.
A Dundee City Council spokesman declined to comment.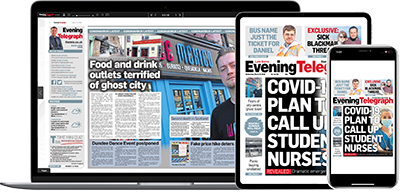 Help support quality local journalism … become a digital subscriber to the Evening Telegraph
For as little as £5.99 a month you can access all of our content, including Premium articles.
Subscribe