Speeding offences in Dundee have shot up by more than half, new figures show.
The latest quarterly report from Police Scotland shows that there were 437 instances of speeding on city roads between April 1 and June 30, compared with 289 in the same period in 2017.
However, in Tayside, speeding offences dropped from 1,337 to 1,066.
Overall, both the number of driving incidents recorded – and those detected – dropped in the city.
Crimes recorded fell to 1,471 during the quarter, down eight from the previous year, while detections dipped from 1,399 to 1,364.
More people were caught not wearing seatbelts – 24 this year compared with eight last year.
Mobile phone offences also rose to 19 from 12 while there were two more reports of driving while disqualified compared with 28 the previous year.
Dangerous driving offences fell by four to 32 while people driving without a licence dropped from 143 to 105. Careless driving was down to 30 from 57.
Casualties from traffic collisions across the city also dropped.
There were 23 injuries recorded for the quarter compared to 42 the previous year.
Serious casualties dropped by three to six this quarter, with slight casualties down from 33 to 16.
Neil Greig, policy and research director at the Institute of Advanced Motorists, said a combination of "enforcement, engineering and education activities can have a big impact on cities like Dundee" when it comes to improving road safety.
He added: "Everyone in Dundee needs to take responsibility for road safety as deaths should be going down."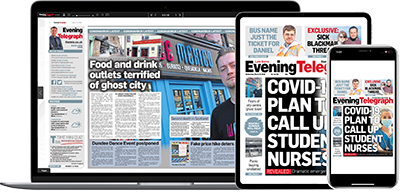 Help support quality local journalism … become a digital subscriber to the Evening Telegraph
For as little as £5.99 a month you can access all of our content, including Premium articles.
Subscribe