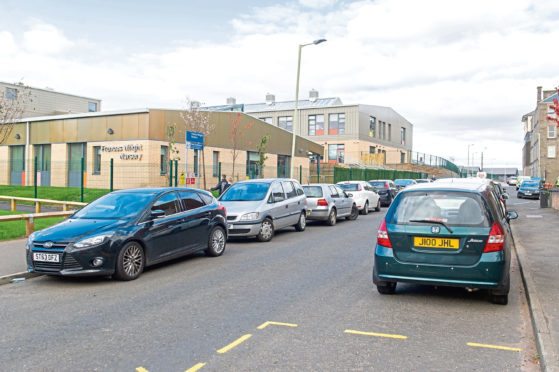 PARENTS and residents have hit out over parking problems outside a new school campus.
Pictures show considerable congestion outside the new £16 million Coldside campus on Alexander Street, which now houses Rosebank and Our Lady's Primary School.
The Tele understands staff at the schools are monitoring parking difficulties, particularly around Ann Street.
One parent claims the present situation is putting children at serious risk.
She said: "There have been so many people parking outside the school on the double yellow lines and the zig-zags recently.
"It really is a joke. The police should be coming up to look at it.
"You can't get parked on the street through the day and there are cars parked in the middle of the road. It's so stressful.
"It is so dangerous – someone is bound to get hurt."
The new school campus is home to pupils of Our Lady's and Rosebank, as well as the Frances Wright Nursery School.
Parents from across Dundee have voiced their concerns about parking outside school gates in recent years.
In May, it was revealed that illegal and inconsiderate parking was plaguing the area surrounding Tayview Primary on Dickson Avenue.
A month later, members of the Dundee School Parking and Pupil Safety Working Group visited Downfield Primary to assess travel issues on the surrounding roads and pavements.
Education boss Stewart Hunter also admitted that Dundee City Council could do better over parking after reports of "traffic chaos" outside of the new £17m North East campus on Lothian Crescent in Whitfield.
Elaine Clark, chairwoman of Rosebank Primary School Parent Council, said she was aware of difficulties around Ann Street and understood council bosses were looking into the situation.
She said: "I haven't heard of any specific incident outside the school.
"But I have heard that there have been quite a few problems in Ann Street recently.
"I think it's a case that there are cars coming down there and they are having to turn back because of the congestion and that's what's causing some of the problems.
"At the moment, a lot of the area surrounding the school is still a bit of a building site so I'm sure that's a factor.
"Rosebank had never had an issue with parking outside the gates. A lot of the kids would walk to school so I don't know if it's the case that parents from Our Lady's are having difficulties there.
"As far as I am aware, the school and the council are monitoring the situation so we'll see what happens.
"I'd like to think that it is more of a short-term issue because of the work that is still going on there.
"Ann Street is due to reopen at the other end fairly soon so that should hopefully stop some of the problems."
A Dundee City Council spokesman said: "We are monitoring the situation.
"Over the past few years we have been campaigning for drivers to act sensibly around schools and not cause danger to children.
"There are a number of traffic management measures in place at our schools to deter people from parking illegally.
"Each of our schools has a Safer Route map, which highlights parking zones that help cut congestion.
"And there are also other alternatives, such as parking further away from school and encouraging children to walk the rest of the way, if you have to bring your car.
"The city council works with a range of partners, including Police Scotland on these issues. The safety of pupils is paramount."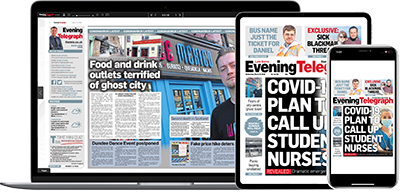 Help support quality local journalism … become a digital subscriber to the Evening Telegraph
For as little as £5.99 a month you can access all of our content, including Premium articles.
Subscribe