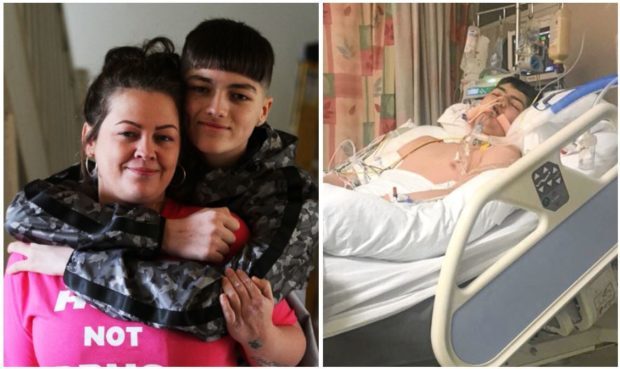 Sitting beside his mum and surrounded by other family members, Dundee schoolboy Lennon McKay has admitted he is lucky to be alive.
In the days leading up to Christmas, during an all night Snapchat session which saw youngsters dare each other to take drugs, Lennon took a red and white capsule and, within half an hour, became unconscious.
He spent the next 10 days fighting for his life.
In an interview with the Tele, the 14-year-old St John's High pupil admitted he was finding it all but impossible to come to terms with the devastating consequences of what he said was "a mistake".
For not only did Lennon come close to death once — but three times.
In the two days after Lennon took the capsule on December 21, his family were told on three separate occasions to prepare for the worst.
The teen, who is a shadow of his former self mentally and physically — he lost four stone during his fight for life — also admitted to the guilt and sorrow he feels over what he has put his family through.
Now, Lennon reckons his terrifying brush with death has changed him forever and at the moment can't see what the future has in store.
During the interview, Lennon also admitted this wasn't the first time he had taken the capsules. He reckons he got lucky on previous occasions and had "got away with it".
However, he admitted he had become complacent and had no idea of what the shocking consequences would be on this occasion.
Lennon said: "I made a mistake. I took the tablet with no idea of what lay ahead. I never meant for all this to happen."
He and his mum, Stacylee McCarron, 39, decided to speak out and tell their story because they are desperate that no other family go through what they've endured.
And in what will be a terrifying wake up call for parents everywhere, Lennon and Stacylee revealed that he took the drug at 5am following an all night social media chat session with teens in the Whitfield area.
Stacylee said: "The kids are on social media through the night and use Snapchat to challenge, brag and prove to each other that they are taking the drugs. As parents you try to monitor what your kids are doing as much as possible but you can't be on at them all day and all night."
Lennon said: "I haven't said this before but I had taken the capsules with friends previously. Nothing had happened to any of us, so we just carried on.
"I took the capsules because everyone else was doing it. I don't really know why I took them just that others were so I did too.
"They gave me a buzz. I don't suppose I stopped to think about what could happen."
Lennon said he bought the capsule during his lunch break. He held on to it and eventually took it around 5am while speaking to other teens on Snapchat.
Within 30 minutes, he was unconscious and within hours, he was in intensive care at Ninewells where he remained unconscious for 10 days — only regaining consciousness on Hogmanay.
Stacylee said: "We've gone through hell, but at least Lennon is still here. This has totally changed him. Lennon was always a rebel, a Jack-the-lad.
"Now he is so withdrawn and quiet and has completely lost his spark — hopefully with time he will get back to being himself."
Lennon meantime has made a solemn vow to his mum and dad, Fraser McKay, that he will never again go near drugs.
He said: "There's no way. All my friends have also vowed they will never touch drugs. What has happened to me has really scared all of them. I know it's changed me.
"This is the worst thing that will ever happen to me and I don't yet know how I'm going to come back from this."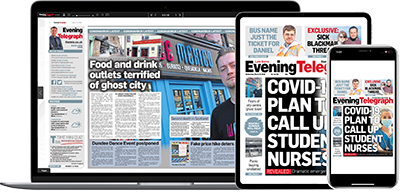 Help support quality local journalism … become a digital subscriber to the Evening Telegraph
For as little as £5.99 a month you can access all of our content, including Premium articles.
Subscribe