One of Dundee City Council's most senior councillors has admitted she "broke the rules" at Sleep in the Park after reportedly arriving at the event under the influence of alcohol.
City development convener Lynne Short was among several local authority representatives taking part in the fundraiser in Slessor Gardens, although she left early.
The event operated a strict no alcohol policy.
Asked if she had attended the event under the influence of alcohol, Ms Short said: "I was breaking the rules and these things happen.
"I didn't take in any alcohol."
Ms Short was also seen searching for her bag using a torch in the middle of the night while other fundraisers tried to sleep.
"I had lost my bag and was looking for my stuff and I was awake when everyone else was asleep," she said.
"I just left of my own accord."
A council spokesman said the authority "was aware of the matter" when asked if it had received reports that Ms Short had been under the influence of alcohol.
Sleep in the Park organiser Unique Events said: "No one was asked to leave the event, although a few people left of their own accord before morning."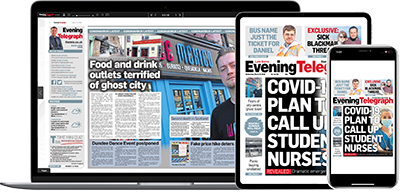 Help support quality local journalism … become a digital subscriber to the Evening Telegraph
For as little as £5.99 a month you can access all of our content, including Premium articles.
Subscribe