Hundreds of fundraisers braved near-freezing temperatures at Slessor Gardens to support homeless people across Scotland.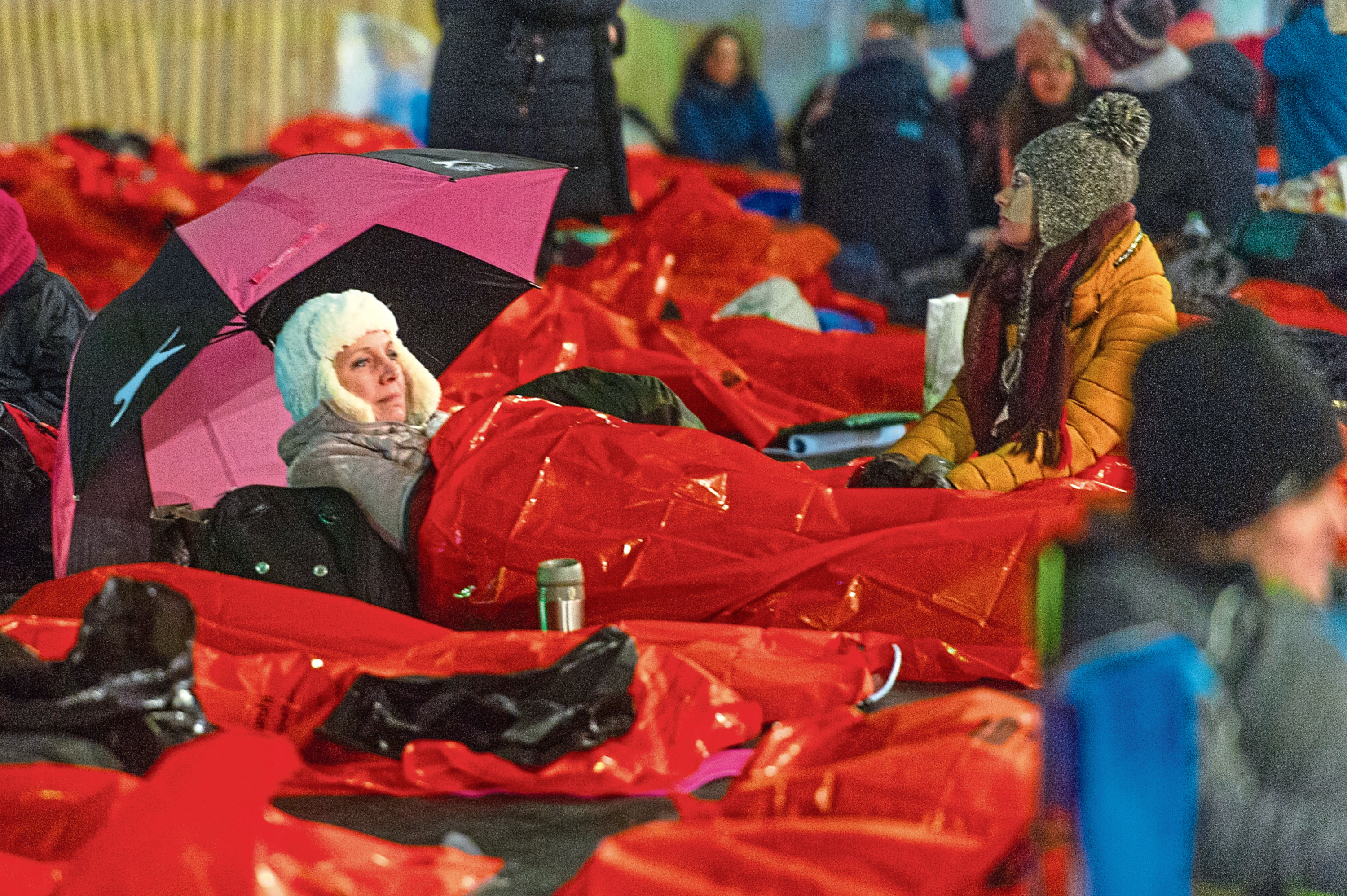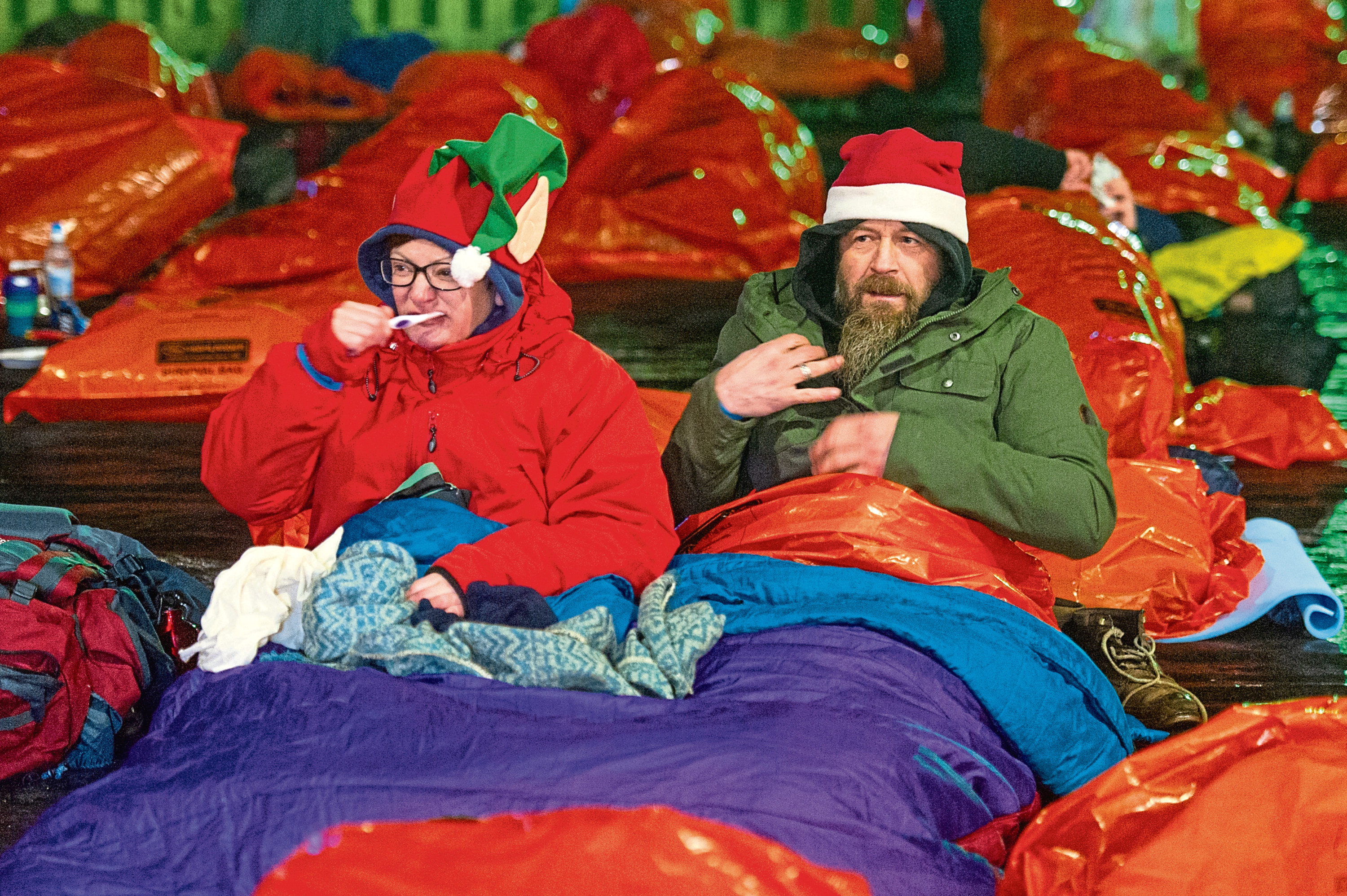 Organised by Social Bite – a social enterprise which helps the homeless – Saturday's Sleep in the Park event was one of four held across Scotland.
About 1,500 participants slept out in the open with only sleeping bags and mats for comfort to experience what life is like for people without a roof over their heads.
Singer-songwriters KT Tunstall and Amy Macdonald were helicoptered in to all four cities to perform for the fundraisers.
But the highlight for the home crowd was a performance by Dundee musician Kyle Falconer.
Ahead of his appearance, he expressed his hope for the success of the sleep out.
He said: "I really hope it does well. It's class that Dundee is doing it because it's good to be part of something. We are a loving place and Dundee's been good for charity."
Ellis Watson, executive chairman of DC Thomson Media, read a bedtime story at the Dundee event.
Temperatures in the city plunged to 4C, but the participants were spared any rain.
Social Bite's co-founder Josh Littlejohn MBE said: "I would just like to say thank you.
"We had a lot of the top businesses in Dundee – there was Insights, DC Thomson, 4J Studios and Thorntons Solicitors taking part.
"Dundee City Council has been absolutely incredible – they gave us Slessor Gardens for free and they had a big team themselves.
"Also, the local high schools and local university were there. People from all walks of life. I'd just like to thank them all."
More than 10,000 people took part in sleep-outs across Scotland on the same night.
Nationally, £3.2 million has been raised so far, with fundraising continuing up until Christmas Eve.
One of the people taking part in the Dundee event was Fraser Kirk from Broughty Ferry, part of a team from Carling Property Group.
He said: "The important thing is that people have got together and talked about the issue of homelessness.
"It's great seeing people together enjoying themselves as well as raising money."
Eve Fraser, who had come up from Kirkcaldy to participate, said: "I've not done anything like this at all, so it's a new experience."
The money raised will go towards a project called Housing First, which will be trialled in Dundee, starting this month.
Rather than keeping people with complex needs in temporary housing until they are ready for tenancy, they will be a given a permanent home straight away, with ongoing support as part of the scheme.
The initiative will be rolled out across Scotland's major cities, aiming to take on increasing numbers of service users.
Dundee City West MSP Joe FitzPatrick MSP, who took part in the event, said: "The Housing First project is really important, as it's not just about houses – it's about making sure people have the support they need so they can have sustainable tenancies going forward.
"It's a really good project and that's why the Scottish Government is backing it."