Sightings of the ghost of a young pilot killed in an accident at Montrose airfield are still being reported 105 years after his death.
Dr Dan Paton, curator of Montrose Air Station Heritage Centre, said the most recent reported sighting of Lieutenant Desmond Arthur was just a few weeks ago.
He was speaking as volunteers gathered to lay flowers at the airman's grave on the anniversary of his death in 1913.
"Two weeks ago, in a new building on the site, a figure appeared in front of a young volunteer," said Mr Paton.
He said the "ghost" was dressed in old-fashioned flying gear, much like a figure reportedly seen emerging from a mist and walking through a wall in the old headquarters building two years ago.
Some believe it was the spirit of Lt Arthur, one of a number of Irishman with No 2 Squadron of the Royal Flying Corps which arrived at Montrose in February 1913.
The squadron was flying from a farm at Upper Dysart, south of Montrose.
Lt Arthur fell 2,000ft to his death when the upper wingtip of his BE2 aircraft No 205 broke up and the structure collapsed.
Dr Paton said: "Officers lived in the old Barracks building in Montrose which is where Lt Arthur had briefly resided prior to his death, and it is there that a ghostly figure began to appear in 1916."
Lt Arthur was buried with full military honours at Sleepyhillock Cemetery, Montrose, the first pilot interred there.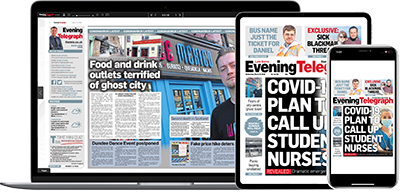 Help support quality local journalism … become a digital subscriber to the Evening Telegraph
For as little as £5.99 a month you can access all of our content, including Premium articles.
Subscribe