The number of children eating school dinners has risen across Tayside – despite a new payment system causing problems in Angus.
A new report by Tayside Contracts – which provides meals for children across Dundee, Perth and Kinross and Angus – revealed that the number of pupils eating school meals continues to go up.
The report by Iain Waddell, managing director of the councils' arm's-length organisation, showed thousands more meals had been consumed by youngsters than expected.
The figures related to the first quarter of the 2018/19 year – April to June – compared with the same period the previous year.
A total of 54.7% of pupils in Angus ate school meals – nearly 3% down on the previous year – but Mr Waddell said: "This can be attributed to the implementation of the iPay system in Angus which has been problematic.
"Where iPay is not functioning as planned there is no alternative payment method, which has obviously had a detrimental impact on the primary school meal uptake."
He pointed out the meal uptake in secondary schools had shown a "marked improvement" year-on-year, "mainly due to an increase in the uptake of free meals against entitlement".
In Dundee, a shorter lunch break led to more pupils opting to have a school meal rather than go elsewhere, Mr Waddell said.
He added: "Another key factor has been the implementation of Parent Pay, an online payment system that credits lunch money directly to pupils' accounts."
Of those entitled to free school meals in the city's primary schools, 72% take them – compared with 62.3% in secondaries.
Meanwhile, Mr Waddell revealed how the introduction of breakfast charges, as well as a lunch price increase, had impacted on the number of children having school meals in Perth and Kinross.
Tayside Contracts also operates Tay Cuisine, which offers outside catering services.
It provided more than 50,000 lunches and teas in the April-June period, including more than 7,000 breakfasts and lunches to school pupils during the Easter break.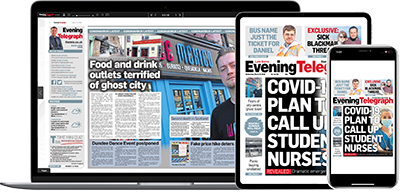 Help support quality local journalism … become a digital subscriber to the Evening Telegraph
For as little as £5.99 a month you can access all of our content, including Premium articles.
Subscribe