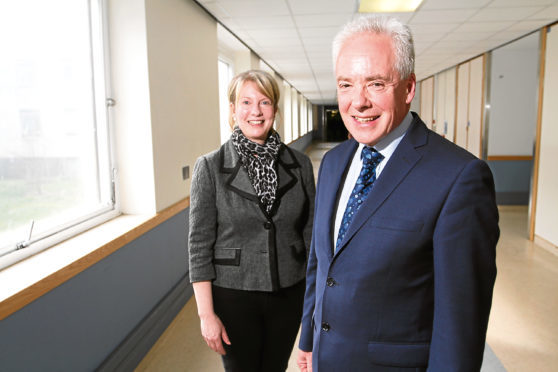 The health secretary has remained defiant amid calls for her to step down, saying she is focused on "getting on with the job".
Shona Robison met with the new NHS Tayside board at Ninewells Hospital, following a tumultuous five days in which chairman Professor John Connell and chief executive Lesley McLay departed under pressure from the Scottish Government.
Ms Robison took the drastic step of calling on the pair to resign, saying she was not confident the leadership was capable of managing its own finances.
Malcolm Wright, the chief executive of NHS Grampian, has taken over Ms McLay's duties with John Brown, the chairman of NHS Glasgow and Clyde, named the interim chairman.
Ms Robison said the duo would be "given time to make sure they can come forward with a credible plan that has the confidence of the board and the staff and public".
However, Labour's health spokesman Anas Sarwar said Ms Robison "couldn't wash her hands" of the NHS Tayside scandal — which involved taking £2.7 million from its charitable endowment fund to cover general running costs, including a new IT system — and as a result said she should "consider her own position".
The Dundee East MSP remained defiant, however, saying: "I'm getting on with the job. My job is to make some of those difficult decisions and they are very, very hard decisions. I'll leave the opposition to say what they want to say from the sidelines.
"My priority is getting on with supporting not just NHS Tayside but all of the other boards to move forward, to use our resources effectively and of course they are getting additional resources, to support NHS Tayside in getting on making the changes.
"The Scottish Government is spending more money on health than it ever has. We've got a lot to be proud of in our NHS here in Scotland, and what we want the press to be talking about is the good things, the patient care, the high quality of service and not the governance issues that have dogged NHS Tayside, that need to be dealt with and will be dealt with."
Ms Robison also said there would be more "regional co-operation" between boards in the future, but denied that NHS Tayside would amalgamate with NHS Grampian and NHS Fife, as has been suggested by her ministerial predecessor, Alex Neil MSP.
She said: "There will be a regional structure in place, but there are no plans to disband the boards in their current form. But there is a challenge that they have to get away from lines on maps, which we are instructing them to do, that they have to get away from their board boundaries, and look at how they can deliver services across those boundaries."
She cited the joint radiology service serving Lothian, Fife and the Borders as an example of cross-board co-operation.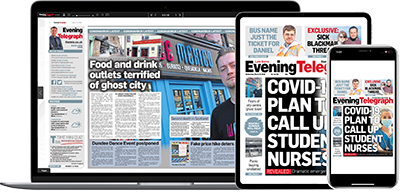 Help support quality local journalism … become a digital subscriber to the Evening Telegraph
Subscribe