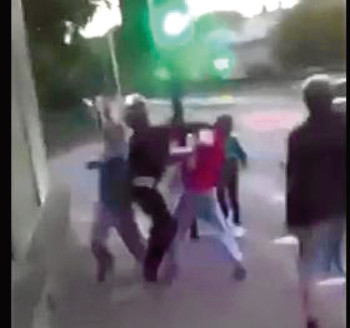 Shocking footage has emerged of youngsters in Dundee scrapping in broad daylight.
The two videos show young boys fighting in the middle of busy roads in Lochee and Whitfield while cars drive by.
One was filmed in Harefield Road, with a title of "scheme fight Dundee".
It features about five or six kids kicking and punching each other while passing cars sound their horns at them.
There is a cry of "police" as a car turns off King's Cross Road and some of the fighters move away. But a couple of them continue to fight.
At one point a boy dressed in grey joggers actually falls on to the road in front of a set of traffic lights.
Another video entitled "want to be shams jumping bairns", filmed on the city's Whitfield Drive, has also been uploaded to the internet.
It shows three children chasing a boy down the road before aiming punches and kicks at him while he is on the ground.
Again a van sounds its horn at the group of youngsters as they fight on the road and on the nearside verge, while another car is forced to drive on the wrong side of the road.
North east councillor Brian Gordon slammed the actions of the youngsters.
He said: "What they're doing is quite dangerous.
"That's a busy road for buses and it could cause an awful accident.
"With a bus full of passengers it's not worth thinking about what could have happened.
"What I would say is that the police are very active in the whole of the north east.
"The police are always moving the kids on to the next area, and then they have to move them on again.
"Unfortunately the police have their hands tied.
"They are asked to move the youngsters elsewhere and then they have to do it all over again when someone else complains about it."
Despite the references to "shams", Mr Gordon is not convinced the youngsters are trying to forge a gang culture similar to the 60s and 70s around Dundee.
He said: "I don't know if they are trying to do that.
"Over the past few years youngsters in Mill o' Mains and Fintry have been going to school together.
"So they would be more or less the same group."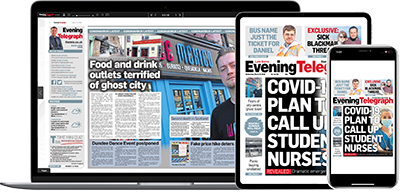 Help support quality local journalism … become a digital subscriber to the Evening Telegraph
For as little as £5.99 a month you can access all of our content, including Premium articles.
Subscribe