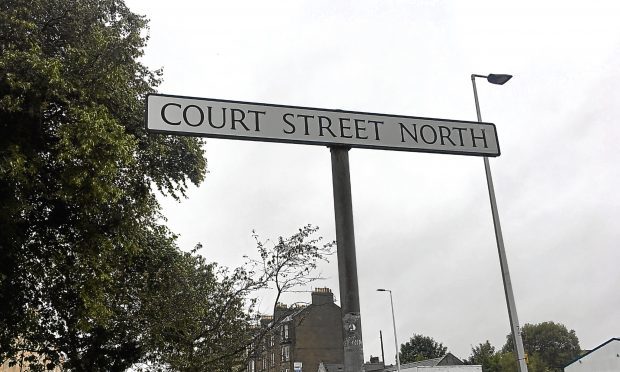 A woman was "shocked and upset" when she found a drug addict in a tenement close ready to inject himself with a prepared syringe and needle.
Dundee Sheriff Court heard John Davis, 41, of Cyrenians, Brewery Lane, was found lying at the bottom of a stairwell by the woman, who had been visiting a friend.
Davis was making noises and had a syringe ready for injection.
After encountering him, the horrified woman went back upstairs and police were called.
He was still lying at the bottom of the stairwell when officers arrived and saw the drugs paraphernalia and the prepared syringe.
Sheriff James McDonald was told the woman was "shocked and upset" by her ordeal.
Solicitor Jim Laverty said Davis had expressed his sorrow at the distress he had caused the young lady in the close.
He said: "He was in the area visiting friends and had taken Valium and has little or no recollection of the incident.
"He recognises his selfish act here and accepts this is his life's nadir."
Mr Laverty said Davis's drug use had "spiralled out of control".
He added that he was not confident that Davis staying in Dundee for treatment would be appropriate due to the presence of his peer group in the city.
As a result, Davis had been in contact with a drug treatment agency in Birmingham.
Mr Laverty told the court Davis hoped to move to the city to address his chronic drug abuse problem and be rehabilitated there.
He asked Sheriff McDonald to defer sentence to allow him to continue his contact with the Birmingham centre.
The sheriff agreed and deferred sentence until January 3 for Davis to be of good behaviour and participate in a rehabilitation course in Birmingham.
Davis admitted breaching the peace by having in open view a syringe and needle, while on bail, in the common close in Court Street North, Dundee, on July 28.