A Dundee councillor has told of his shock at witnessing a shopper "intimidating" a homeless person in a city retail park.
Councillor Charlie Malone said he saw a "smartly dressed" man kick over a beggar's cup, spilling his change, at the Gallagher Retail Park.
The shopper was then said to have bent down and "berated" the homeless person, before going into a store looking "angry".
Mr Malone said: "The man was sitting outside a shop on a blanket, with a paper cup. As I got near, I saw a man walking past and knocking over his cup. Whether it was deliberate or accidental, I don't know.
"He then berated the freezing individual, who apologised. I found the behaviour intimidating. He made no attempt to help, he just went into a shop looking angry."
Mr Malone said he went to help the homeless man, who thanked him but declined assistance. He said: "He was struggling to pick up 1p coins – there was no anger, just resignation."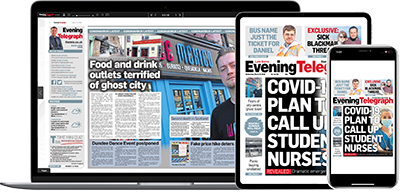 Help support quality local journalism … become a digital subscriber to the Evening Telegraph
For as little as £5.99 a month you can access all of our content, including Premium articles.
Subscribe