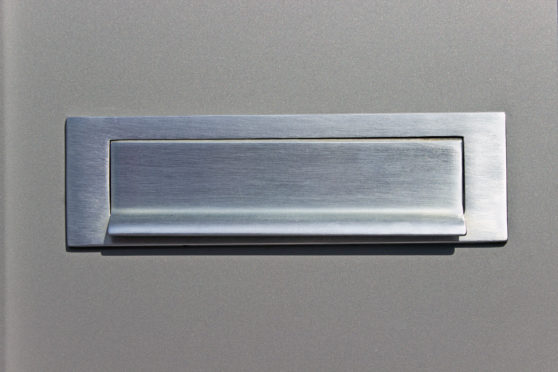 An investigation has been launched after a teenager was almost stabbed by a man who thrust a knife through a letterbox in Dundee.
The would-be intruder started kicking the door of the house on the city's Dryburgh Place, with 14-year-old Daniel Vaughan initially thinking it was a friend playing a joke.
However, as the St John's RC High School pupil looked through the peephole, a kitchen knife was thrust through the letterbox, causing him to jump back.
Police say they are investigating the incident.
Daniel's sister Morgan Melville has asked anyone with information about the incident – which took place around 7.10pm on Monday – to contact the police.
Morgan, 20, said: "Daniel was in the house and heard someone banging loudly and booting the door.
"He was in with his friend and another pal was on his way up, so they thought it was him messing about. My brother shouted something, then looked through the peephole and got the fright of his life as a man shoved a knife through the letterbox. He jumped back but it could have easily stabbed him in the stomach.
"He saw a heavily built man in a black hoodie.
"Daniel and his friend ran to the back door and quickly locked it, then a few moments later the man tried that door too.
"After that they saw the man running away and called the police."
Morgan, who lives at the house with Daniel, her mum Kazia and sister Nicole, believes the attempted break-in was pre-planned.
She said: "The boys were shocked and didn't really know what was going on.
"Since there were two of them there I don't think it was as bad as it might have been, but it was still frightening for two young guys.
"Police were around asking neighbours if they had seen anything but quite a lot of people were out watching the fireworks.
"I put a status up on Facebook asking for information and a few people contacted me saying their door handles had been tried, which makes me think it could be connected.
"I think it has been someone trying their luck thinking houses would be empty while folk were out for Bonfire Night."
A spokeswoman for Police Scotland said: "We are aware of the matter and are carrying out inquiries."