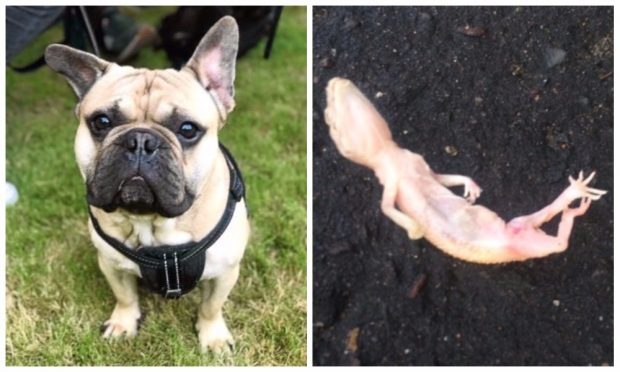 A dog walker was left shocked after his pet picked up a "toy" that turned out to be a dead exotic animal.
Tim Christie, 32, a student from the West End, and his French Bulldog, Percy, had been out for a morning stroll when they discovered what is believed to be a leopard gecko in Benvie Road.
Tim said he'd initially thought his dog had found a toy — but that was before he took a closer look.
He said: "We had been walking near to the small play park at Benvie Road in the morning.
"As we were walking back, I noticed Percy had found something while he was sniffing around.
"Initially, I thought it was a toy and as soon as I realised it wasn't, I took it away from him."
Tim added: "I was shocked when I realised what it was — it looked like a baby lizard to me.
"I have no idea if it was abandoned or had escaped.
"It was sad to know it had probably perished outside.
"I put Percy back into the house and when I went back out into the street, either someone else had picked it up or another animal had got to it."
The leopard gecko is a ground-dwelling lizard found in the highlands of Asia and throughout Afghanistan and India.
Just Right For Reptiles owner Marc Garty, 51, said that it was uncommon to hear about people abandoning the creatures.
He said: "It certainly looks like a tiny baby leopard gecko — its tail appears to have come off.
"It is unusual to hear of people abandoning these animals.
"But if you leave the door of their cage open, they're off, and they can be hard to find. So, it could well be that the owner hasn't even realised it's escaped out of the house.
"Leopard geckos are usually found in the wild in warmer climes, such as India and Pakistan — it would have struggled to have stood a chance outside during our summer, let alone our winter."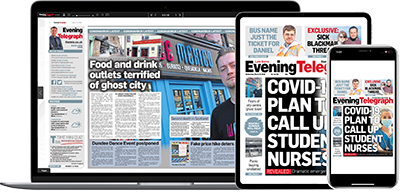 Help support quality local journalism … become a digital subscriber to the Evening Telegraph
For as little as £5.99 a month you can access all of our content, including Premium articles.
Subscribe