Residents of Perth's Letham housing estate got a shock when a hot air balloon descended over their houses as it made a forced landing.
The Virgin balloon takes off on a daily basis from Perth's North Inch, taking passengers on a high-flying trip across the city.
It has proved a popular attraction, with flights being well booked up by enthusiastic passengers.
But customers on a particular flight yesterday morning didn't get very far as the balloon didn't have enough windspeed behind it.
Pilot was forced to bring it down in the middle of the estate.
The balloon eventually came to land next to Letham St Mark's church.
None of the crew or passengers was hurt and the balloon wasn't damaged.
However, several residents got a real fright.
One said: "I heard my mum screaming that the balloon was coming down near to our house and, when I looked out of a window, sure enough it was flying very low.
"It swooped down over our house and settled neatly in the grassy area next to the church."
Another resident said: "I was putting my bin out when I saw a neighbour with a video camera filming something up in the air. When I looked up I saw the balloon coming down. I've never seen it that low before."
Balloon pilot Kate said: "We didn't have enough windspeed behind us so I decided to bring the balloon down safely.
"We made a gentle drift across to a nice grassy area and we fitted neatly on to it.
"There was no danger of us crashing into any buildings.
"I was well in control but it was certainly a short flight and one which got us plenty of attention from startled residents."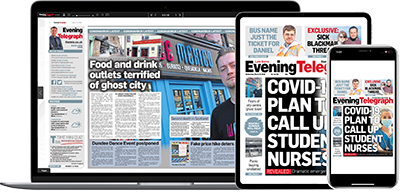 Help support quality local journalism … become a digital subscriber to the Evening Telegraph
Subscribe