A local youngster has officially marked the end of her cancer treatment more than a year after being diagnosed with a rare condition.
Lily Douglas, 10, from Perth, has battled stage-four Ewing's sarcoma, but her latest scans have revealed she is cancer free.
Her mum Jane Douglas shared a video and photos of the young dancer ringing the end-of-treatment bell at Ninewells, 493 days after her diagnosis.
She said: "We are ecstatic. When she was first diagnosed we never thought we'd get to this point, it was so grim, but she has done it."
Lily's grandparents Mary and David Douglas joined her for the momentous occasion, reached after 14 rounds of chemotherapy, nine operations, proton beam therapy in the US and fighting off seven infections.
Jane praised the way her "incredible" daughter had faced things saying: "I don't think I would have coped as well. She is amazing, she never complained and she rarely took a painkiller.
"After having rounds of chemotherapy it didn't matter how sick or tired she felt she still went to her dance class, she never missed it once."
Next month Lily will mark her 11th birthday swimming with dolphins during a trip to Orlando with her mum and brother Leon Christie to celebrate being cancer free, donated by Kenny McLeod, of Dundee, and his friends.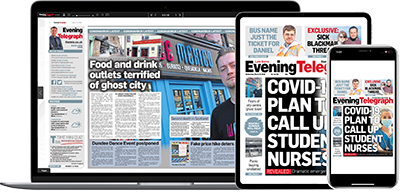 Help support quality local journalism … become a digital subscriber to the Evening Telegraph
For as little as £5.99 a month you can access all of our content, including Premium articles.
Subscribe