Pupils at a Dundee high school have not had lessons from a dedicated English teacher this academic year after what parents branded a staffing "shambles".
The department at St Paul's RC Academy in Kirkton only has three English teachers, with the rest of the pupils taught by one newly-qualified teacher, two supply teachers and one covering science teacher.
The school, which has reportedly told parents it is "rotating" classes, was aware of a potential staffing crisis long before the August term began as two English teachers were scheduled to begin maternity leave.
Dundee City Council says priority access to English teachers is being given to those preparing for exams, and support is available "outside class time" to pupils willing to stay behind.
A parent, who did not wish to be named, said: "The classes are not being rotated. My daughter has only been taught by two teachers, neither of whom are English teachers.
"Considering the fact many of the pupils at St Paul's are in the SIMD (Scottish Index of Multiple Deprivation) and there is a massive push on literacy, I find it absolutely disgusting that my daughter has not received teaching by anything other than cover teachers."
Council children and families service convener Stewart Hunter said: "All English classes preparing for exams at St Paul's Academy will be taught by an English teacher during the course of the school week."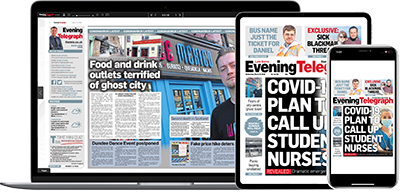 Help support quality local journalism … become a digital subscriber to the Evening Telegraph
Subscribe