A new taskforce could help bring almost 200 derelict or vacant sites in Dundee back into use.
The Scottish Land Commission and Scottish Environment Protection Agency (Sepa) have joined forces to try to halve the amount of land on the disused property register by 2025.
This could see some of the city's biggest eyesores – including several old school sites – restored or brought back into practical use.
And the boss of the Scottish Land Commission says Dundonians will be at the heart of any new developments.
The taskforce aims to "challenge and reshape" the approach to bringing vacant land back into use.
Scotland's total disused property area, nearly twice the size of Dundee, has barely changed in the last 30 years.
There are currently 195 sites in Dundee containing derelict buildings or vacant land, including the Queen Victoria Works in the West End, the former Keiller Factory on Mains Loan and the gas works at East Dock Street.
Hamish Trench, chief executive of the Scottish Land Commission, said the "opportunities are endless" for vacant land in Dundee.
He said: "There is so much land in Scotland that we want to bring back into the use of the community.
"That is the main point of it, we want to look at practical ways of re-introducing land.
"There isn't really a single issue as such – sometimes there have been difficulties around the contamination of land or private ownership.
"There have been a lot of good examples of that and we want to look at the whole system and the problems that we are currently facing."
Mr Trench added: "The opportunities are endless in terms of types of use.
"We've seen a lot of different types of housing, greenspace infrastructure, there's a lot of good work going on.
"As the taskforce goes on this will very much revolve around people living in these places but what we want to do first is look at the whole system.
"There are lots of inspiring examples right across Scotland so we need to learn from what's working to spread this around other parts of the country."
Many of the derelict buildings in Dundee have been regular targets for vandalism or fireraising.
But while some sites blight the city, a number of new developments are ongoing including the six-figure project at King's Cross Road and the creation of 163 homes at the former Derby Street multis.
Bill Newcombe, chairman of the City Centre and Harbour Community Council, said it was important to at least recognise that many sites around Dundee need redeveloping – and showing an interest could encourage future developments.
"I think it's a very good idea – it's the sort of approach that's needed to these sorts of sites," he said.
"If you're going to bring sites back into use there are a lot of sites they can be looking at around Dundee, and it's much better to consider existing brownfield sites before you start looking at greenfield sites.
"It helps the regeneration of the city – and once they start looking at some sites they can lobby to bring people in to talk about the rest."
Lochee councillor Charlie Malone said it was his wish to see land handed back to the community after the success of projects in his ward.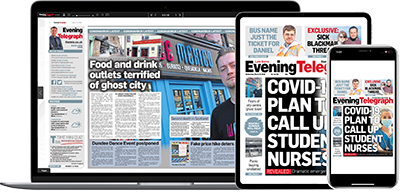 Help support quality local journalism … become a digital subscriber to the Evening Telegraph
Subscribe