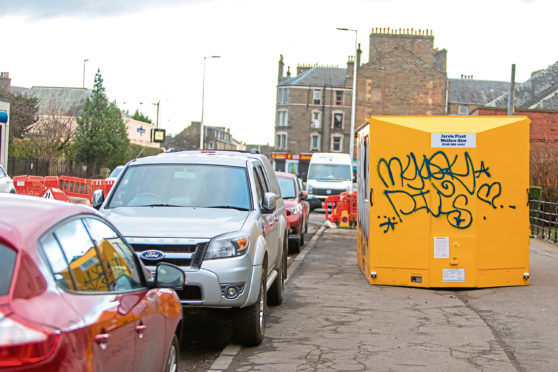 Selfish drivers have been blasted for forcing pedestrians on to a busy road.
Now a local councillor is demanding action to punish the motorists who park on pavements, causing chaos in the process.
A new pedestrian crossing is being installed on accident black-spot Clepington Road and several barriers have been put up during the building work.
Residents have been left fuming at car and van drivers who are parking their vehicles on the pavement.
Coldside councillor Helen Wright visited the scene after the Tele reported on the issue at the weekend – and now she will raise the matter with the city council.
Ms Wright said: "I am going to write to our planning department asking for an investigation.
"I held a surgery at the weekend and a lot of people from the care home complained to me about this issue.
"Something has to be done about this pavement parking.
"It is forcing people with prams on to the road and also people who use disability scooters.
"There was an incident where a young man in a wheelchair had to take a different route to get to the shops because of this and because of the hole in the road.
"It is a nightmare for that area.
"There should not be any parking on pavements.
"The Scottish Parliament is discussing the possibility of bringing in a Bill which aims to stop pavement parking and that would help.
"There is a double-parking issue too with drivers leaving their cars and going to their houses on Caird Avenue and that doesn't make matters any easier."
Local campaigner Tom Wilson originally raised the issue and said he has challenged several drivers.
He said: "Some have told me that they are allowed to park on the pavement so they can make deliveries to the shops. It is just nonsense.
"There are selfish drivers who are just parking on the pavement to go across the road to buy something at the shops or go to the bank.
"It's ridiculous and people just don't think of others."
Ms Wright added: "We would ask drivers to be considerate.
"People really should be more responsible at Clepington Road because even though the barriers have been moved back a bit, it still leaves very little room if vehicles are parked there and pedestrians are forced into the hedge."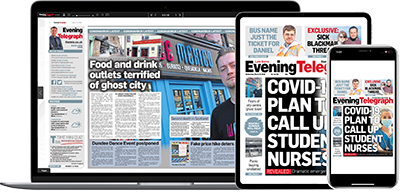 Help support quality local journalism … become a digital subscriber to the Evening Telegraph
Subscribe