Many people grow up dreaming of seeing their names in the credits of blockbuster movies.
And although Amit Dev's thoughts of becoming a famous actor went the same way as most others, he's lucky enough to have had his name listed at the end of some of the world's biggest films — thanks to his 3D modelling skills.
The Downfield man, a former Lawside High School pupil, studied animation at Duncan of Jordanstone College of Art and Design.
He has gone on to work on flicks such as Avengers: Infinity War and Steven Spielberg's Ready Player One.
Amit works for Industrial Light & Magic (ILM) — a visual effects studio which was founded in 1975 by legendary director George Lucas in a bid to create visual effects for the first Star Wars film.
His big break came when he was offered a production assistant position at the studio while it worked on Star Wars spin off Rogue One — which led him to secure his current role.
Amit said: "Ready Player One was a big project, which was directed by Steven Spielberg.
"From that, going to working on Avengers was a dream come true.
"When I was at university, I watched Avengers: Age of Ultron and knew that I wanted to work on an Avengers movie and have my name in the credits one day.
"I never thought for a second I would end up working on it so soon in my career.
"That was my second credit and it was crazy to see my name there.
"It was such a surreal experience when I saw the stuff I had worked on come on screen for the first time — it's like it's really there.
"I never thought that I would be in the position I am at this stage of my career.
"If someone had told me three years ago that I would be working on a movie like Avengers I would have never believed them."
Amit's role is to create objects for movies that can't be replicated in reality. He said: "I am a 3D modeller so I create designs on a computer.
"We create anything that is needed but can't be done in the real world – or is too expensive.
"Avengers is set in the future and we pretty much had to create everything — it was completely computer-generated.
"Pretty much everything you see in the film had to be created by us — it was more like your classic Pixar where it is all computer-generated.
"Sometimes you get creative freedom and sometimes you don't – it just depends on the project.
"It is an amazing job — it never really feels like work to me."
Amit mainly works in the sci-fi genre and has been called on to make a variety of things, including landscapes, buildings, vehicles and weapons — often only working with a small brief from a film boss.
He isn't sure what the future holds but said: "I want to keep building my career – hopefully I can climb the ladder and become a senior."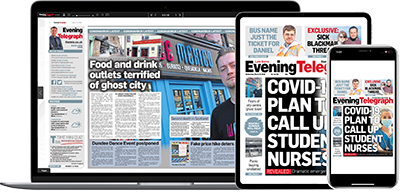 Help support quality local journalism … become a digital subscriber to the Evening Telegraph
For as little as £5.99 a month you can access all of our content, including Premium articles.
Subscribe