The family of a biker killed in an accident last year are raising funds to ensure something positive comes out of the tragedy.
Graeme Bell, 27, from Carnoustie, died in November, when his motorbike was involved in a collision with a car on the A930 at Barry while on his way to work at Cupar Motorcycles.
A passer-by ran into the local Premier Store for a defibrillator in a desperate bid to try to save Graeme's life.
Now Graeme's widow Jenni, 39, along with the rest of his family, aims to raise £2,000 to buy another defibrillator. Jenni said: "We were made aware that on the day of the accident a kind local went to retrieve the nearest defibrillator.
"Graeme couldn't be saved but we believe that buying another defibrillator would be a fitting way to honour Graeme's memory."
Jenni said there were already five defibrillators in Carnoustie, but the family hope to raise enough money to buy one for the Westhaven end of the town where they live.
After Graeme's funeral, £600 was raised for charity and the family gave half to stillbirth bereavement charity Sands.
Jenni added: "We didn't know what to do with the rest of the money and then I met Lynn Lawrence of Carnoustie First Responders who spoke about the need for defibrillators and I realised that is what I would like to do with it."
Graeme's sister, Louise, 31, said: "If by buying a defibrillator we could potentially save someone else's life, that would bring us some comfort."
Graeme's dad Ian described his son as a "top bloke" who was much loved by everyone who knew him and who would be proud to know his family were fundraising in his memory.
It will cost £2,000 to buy and install a defibrillator. Jenni said a major fundraising event would be announced soon and hoped as many people as possible would support the family's efforts.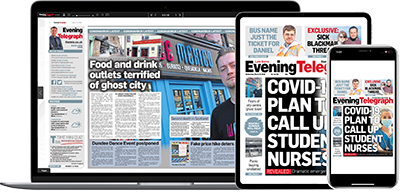 Help support quality local journalism … become a digital subscriber to the Evening Telegraph
For as little as £5.99 a month you can access all of our content, including Premium articles.
Subscribe