Santa's real-life helpers will be coming to Dundee to help give a festive celebration a special touch.
The Christmas Wonderland will return to the Ardler Complex at the weekend, with organisers promising it will be bigger and better than ever.
As well as Santa's grotto where children can greet Father Christmas and pick up an early festive gift, there will be a chance to meet reindeers which are part of a travelling zoo.
Fiona Cook, convener of the Ardler Complex management committee, said the day had taken months of planning.
"It's just to give the community a good day," she said.
"We have been working on it for a couple of months now. It looks really good.
"This year we have got a land train, we have got real reindeers outside and Santa's grotto in a big inflatable outside.
"We have big inflatables in the games hall, including a helter-skelter. You've got to try and change it every year for the kids."
More than 3,000 people attended the complex's winter wonderland last year, which featured a Santa's elves workshop.
This year activities include a selfie mirror for youngsters to get their pictures taken, as well as a dinosaur show.
Members of the armed forces will also be making an appearance at the event.
Expense will be kept to a minimum, Fiona said, with most paid activities costing £1.
Fiona said: "We never made any money out of it, we have never done it to make money."
This year will be the first Christmas event since the opening of the new Cafe Ardler in October, which will be giving out soup to visitors.
"We just want everybody to enjoy themselves and have fun, that's what it is all about," Fiona added.
"Hopefully, it will be a good day for everybody."
The Winter Wonderland takes place on Saturday – December 8 – from noon-4pm.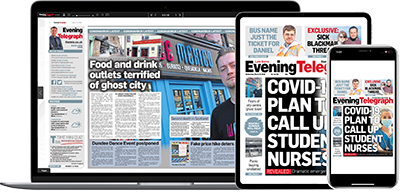 Help support quality local journalism … become a digital subscriber to the Evening Telegraph
For as little as £5.99 a month you can access all of our content, including Premium articles.
Subscribe