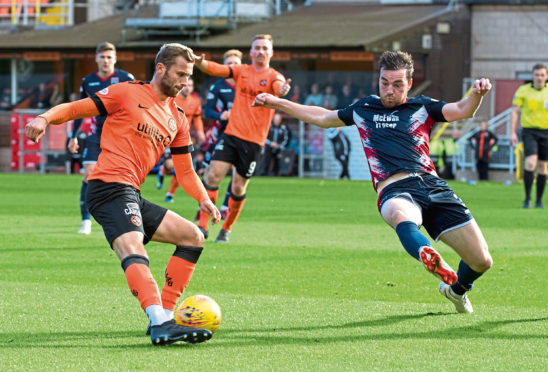 As someone who'd known Csaba Laszlo longer than most at Dundee United, Pavol Safranko was gutted when he got the sack at the end of last week.
But when the on-loan Slovakian looks at the bigger picture, he insists nothing has changed.
He came to Scotland to help United get back to the Premiership and, whoever is picking the team, he intends to help them do exactly that.
"I think not just for me, but I think it has been difficult this week for my team-mates and for all the people at the club because it is always not easy when the coach is sacked," said the 23-year-old, who was brought in from Danes Aalborg by his now former boss who knew him from their time together at Dunajska Streda in Slovakia.
"True, it is especially difficult for me because I knew Csaba from before when we worked together but I am professional.
"First I work for the club and that is what is the most important for me. As a footballer this is how you should be."
With that in mind and whatever his sympathies for Csaba are, Safranko's focus is now on helping the Tangerines get their season back on track when they travel to Championship leaders Ayr United.
A victory at Somerset Park would leave them no more than three points off the top of the table.
That would show his team are in this division to win it and, despite the traumatic events of the past week that started with a 5-1 home defeat against Ross County, the 23-year-old is determined they will.
"I still believe this. I think everybody who is here believes 100% we can be there at the end of the season."
As those words suggest, there is no hint from Safranko the recent difficulties have seen his confidence take a knock.
And he certainly has no fears over facing the second tier's form team at Somerset Park.
He went on: "I believe always in the team and I think the players believe also this is a game we can win.
"I am a person who will fight for a win in every game and I will always believe we can get it.
"We will play against any team, I don't care who, and believe we can win. We must always know we are Dundee United and we go into a game with the feeling that we have to win."
What he doesn't hide from is the fact getting three points will not be easy and he accepts only a good performance will see United get the victory they so desperately need.
"I think this league has good quality, this I can say," he added.
"I cannot say I look at other teams and say they are good or better than us, because I keep my focus always on our team and what we can do.
"When we do videos and coaches show us clips, so we can see how the other teams play.
"I always pay attention, but I always keep focused on how we can play. For me, my team is the strongest and it is what we do that will decide the game."
For all that fighting talk, there is no question his pride took a knock as County ran out such comfortable winners at Tannadice.
It was a game he expected to win and feels lapses at vital moments saw it slip away.
"I think it was a difficult game but I am sure before the game everyone was focused and ready to give 100% to win it.
"The game finished like we know and now we can learn from this history and we can change things.
"We conceded two weak goals and after that we had a red card and so it became very difficult.
"But you know, if we score from the first chance that we had this game when it was 0-0 could be for us 5-1. It was not and now we must make sure it does not happen again."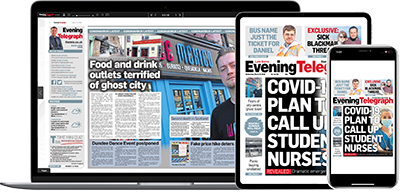 Help support quality local journalism … become a digital subscriber to the Evening Telegraph
Subscribe