Safety fears have been expressed after police were called to reports of stray horses close to the A90 between Dundee and Perth.
Police were alerted three times in four days to the Craigdallie area, two miles west of the A90 Inchture junction.
The horses are thought to have escaped from an unsecured field nearby, and police are trying to trace the owner.
A spokesman for the force said there were reports of two horses loose on a country road at 12.17pm on Sunday and further calls on Monday at 7.39pm and 12:17pm on Wednesday.
Regarding the Wednesday incident, he said: "One horse was found by us this afternoon and returned to the field. An officer is trying to trace the owner."
Nadine Reilly, from Birkhill, fears that a serious accident could occur if something is not done to prevent the horses from escaping onto local roads.
The keen cyclist has encountered the horses on her rides and has complained to the SSPCA.
She said: "I called the police on Sunday after seeing two horses, both in a lousy condition, on the road. One was dark brown, the other was chestnut-coloured.
"Their tails were all matted and I don't even know if they have access to water. They were on a fast country road and if the horses are on there in the dark I dread to think what will happen.
"I spoke to a neighbour who said the police had been out a couple of times but they are totally ill-equipped to deal with loose horses. The dual carriageway is less than five minutes from the field; if they get on that road it will be a tragedy.
"I want someone to sit up and take notice before the horses or someone in a passing car is killed."
Scottish SPCA Inspector Alastair Adams said: "We can confirm we have had reports of horses escaping their field near Inchture.
"We understand the concern for the horses, and motorists, due to the proximity of the A90.
"We are investigating the situation.
"If you encounter a loose animal on the road please contact Police Scotland on 101."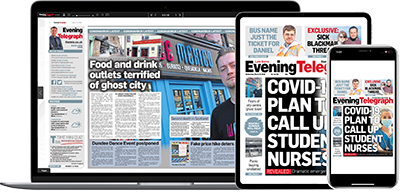 Help support quality local journalism … become a digital subscriber to the Evening Telegraph
For as little as £5.99 a month you can access all of our content, including Premium articles.
Subscribe