Dundee's main bus firm has installed new dashcams in its vehicles in a bid to prevent accidents.
Xplore has rolled out DriveCam across its fleet – a driver safety programme consisting of a recording device which is mounted on the bus's windscreen.
The camera captures 12 seconds of video and audio inside and outside the vehicle when "risky" driving events – or other potentially unsafe incidents – are detected.
The system records events that cause a higher than normal g-force and allows the company to review near misses and accidents.
It also provides evidence of "good driving" – where a driver has taken evasive action to avoid a collision, for example.
Incidents are recorded automatically but drivers can also manually record for 12 seconds.
Video clips are then uploaded and analysed by professionals in case further action is needed.
Xplore announced the move after buses had to be withdrawn from routes in Whitfield three nights in succession recently when youngsters were spotted "playing chicken" with services – though the new initiative is not directly linked to those incidents. George King, Xplore's operations manager, said: "Xplore Dundee already provides a comprehensive driver training programme, including initial driver training, garage-based vehicle type and route training as well as regular refresher courses.
"The objective behind DriveCam is to enable us to identify risky behaviours so that early intervention may prevent an accident.
"It's also helping us to identify and protect our drivers who are displaying excellent driving skills when a dangerous situation suddenly emerges on the roads.
"It's another tool in our box – an extra set of data and recorded information which can help us with driver training, ensuring increased safety for our drivers, customers and other road users."
National Express, which owns Xplore Dundee, installed DriveCam in its West Midlands buses in 2016-17.
The company says this resulted in a 23% reduction in preventable collisions comparing January-March 2017 with the same period this year.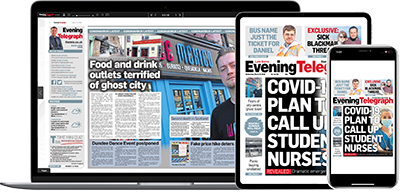 Help support quality local journalism … become a digital subscriber to the Evening Telegraph
Subscribe