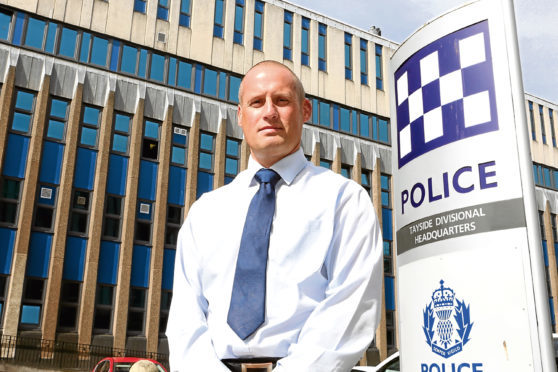 A top anti-fraud cop is warning of the dangers posed by scammers after it was revealed Taysiders have lost £750,000 to phone banking cons.
As part of the Tele's Safe as Houses campaign, Detective Inspector Iain McPhail, of the economic and financial investigation unit, has outlined the tricks crooks use to mine bank accounts.
Our community safety push, together with Kean2Slaters, aims to ensure people don't fall victim to scam artists, bogus callers or thieves.
It was revealed last week that residents in Tayside have lost three-quarters of a million pounds to fraudsters who phone their homes pretending to be from their bank.
DI McPhail revealed how the crooks get hold of your personal details — and what you can do to protect your cash.
He said: "These calls are designed to plant a seed of doubt in someone's mind and exploit it for financial gain.
"The people they target tend to be elderly, or vulnerable. It's organised crime, run by people who have a lot of experience."
Typically, scammers will tell a target they're calling from a bank with which they know the person has an account. The con artists are able to make the connection using personal data that has been stolen or bought online.
"This information could even be obtained if people are disposing of bank statements without shredding them," said DI McPhail.
"But fraudsters also have people in their organisations who can come into significant amounts of data through the internet."
The criminal then tells their victim that their account has been compromised and that their money has to be to be moved to a "safe" account for protection — in reality, an account set up to harvest stolen cash.
From there, the crook offers a callback from an "anti-fraud team" in a couple of hours' time, in a bid to dispel any suspicion and give the deception an air of legitimacy.
DI McPhail warned that scammers have some tricks up their sleeves if a potential mark starts asking too many questions.
"A past piece of advice has been that, if in doubt, to hang up and call your bank on an official number," he said. "However, some fraudsters have software that lets them keep the line open even after hanging up — so if you dial from the same phone, you're still on the line to them.
"Some of them are even able to 'spoof' the number they are calling from, so if your phone has caller ID, it can look as though it's really the bank ringing you.
"Our advice is to call the bank back from a different phone."
DI McPhail's red alert is simple — a bank will never ask you to transfer money into a different account. Anyone saying otherwise is a fraudster after your cash.
"If necessary, a bank can cancel cards and freeze accounts. But they will never ask you to move money," he said.
Fraudsters will also persistently call back in a bid to rake in more money, and such moves can see victims tricked out of tens of thousands of pounds.
However, DI McPhail said work was ongoing to secure more convictions for significant fraud.
He said: "With the Safe as Houses campaign on the go, our advice is this — if you are in any doubt, speak to your bank from another phone, or go to a branch."
Have you been targeted by a bogus caller, thief or fraudster? If so, contact us at SafeasHouses@dctmedia.co.uk, or call 01382 575017.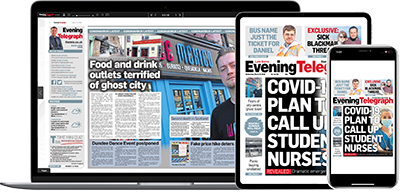 Help support quality local journalism … become a digital subscriber to the Evening Telegraph
For as little as £5.99 a month you can access all of our content, including Premium articles.
Subscribe