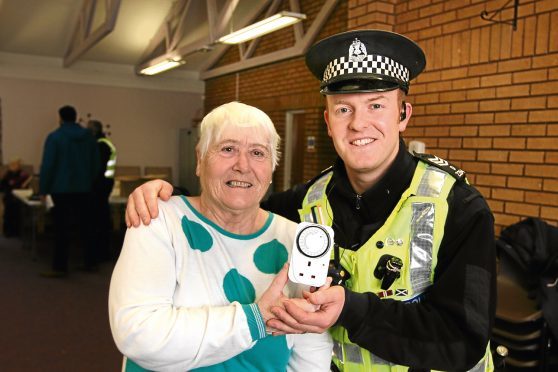 Residents of a Dundee sheltered housing scheme have shared their experiences of fraudsters and thieves as part of the Tele's Safe As Houses campaign.
Police and community safety wardens held an event at Forthill Sheltered Housing Complex in Broughty Ferry following a spate of bogus callers and break-ins in the area.
The Tele spoke to residents about their experiences as officers handed out light switch timers, plus advice on the best way to avoid becoming a victim of crime.
The timers automatically put lamps and lights on at regular intervals in order to deter thieves when the occupant isn't home.
Police Scotland's community sergeant Jamie Webster said that officers aim to ensure residents are as safe as possible in their home.
He said: "It is a peace of mind thing. It isn't about people being scared to live in their own homes.
"We are here to put residents' minds at ease and answer any questions they might have. We work closely with the community safety team on things like this."
Margaret Mackay, 75, said that she once confronted a pair of bogus callers herself. She said: "I went to the door and there was a guy there saying I needed new windows. I told him I have brand new windows.
"Then I noticed that he had a mate with him, round the side."
Margaret said she decided to confront the pair, fearing for other elderly and infirm residents in the area. One 85-year-old resident, who asked not to be named, said his home was broken into while he was recovering from surgery at Ninewells Hospital.
He said: "I was in hospital for weeks. They came in through the window when I was away.
"I was really glad they didn't completely trash my house — that would have been horrendous."
The man installed light switch timers throughout his house following the break-in.
He said: "It puts your mind at ease knowing that you can go out and not worry too much about people knowing that you are away."
The Safe as Houses campaign aims to ensure residents are as vigilant as possible over their homes and able to spot a con artist when they come calling.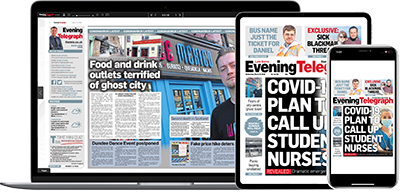 Help support quality local journalism … become a digital subscriber to the Evening Telegraph
For as little as £5.99 a month you can access all of our content, including Premium articles.
Subscribe