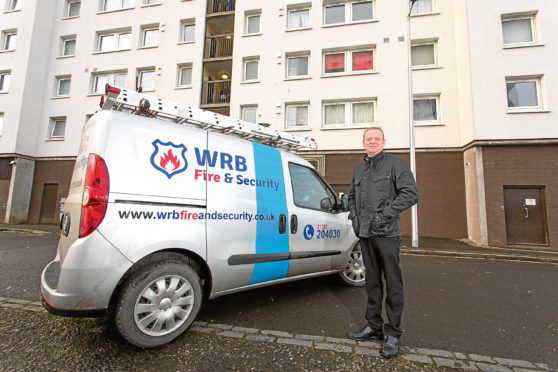 It might seem like there's little that you can do to stop criminals breaking into your home.
But there are a range of measures to help keep your property — and more importantly your family — safe.
Many people have never considered having an alarm installed at their home, but it's one of the most effective things you can do to stop thieves in their tracks.
The Tele has teamed up with Kean2Slaters for the Safe as Houses campaign – in a bid to ensure people don't fall victims to scam artists, bogus callers or thieves.
We spoke to home security expert Paul O'Brien, who is a director of WRB Fire and Security, based in Dundee's North Ellen Street — and he has a wealth of experience in making homes secure.
The firm specialises in the installation and maintenance of intruder alarms, fire alarms, access control and door entry systems, and CCTV cameras.
Paul, 46, has headed the family-run company for eight years — but has worked in the security business for about 30 years.
He provided the Tele with his 10 top tips to keep yourself safe in your home.
1. Install an alarm by a NSI Approved installer
2. Get your system maintained annually
3. Use the alarm every time you leave the house
4. Set the alarm up so you can arm the system when you go to bed
5. If you have pets install pet immune sensors
6. Don't put the alarm on once a year before you go on holiday. Faults on intruder alarms tend to be intermittent. Use it all year round an if you get false alarms call out your supplier and get it fixed. Modern systems if installed correctly should not give false activations
7. If you spend a lot of time away from home install a Police Signaling system
8. Don't wait until you have been broken in to get an alarm installed
9. If you have to give your code number out to workmen etc. change it before they start the work and change it back afterwards
10. If you move into a new house with an alarm change the code you don't know how many people know the existing one
As an alarm specialist, he said the most important piece of advice he would give would be to install an alarm.
But once it's been installed, make sure that the device is operated properly.
He said: "One of the main things I find is people tend not to set their alarms when they go to sleep at nights.
"A lot of burglaries actually happen when people are sleeping, not when they aren't in the house, which is what a lot of people think.
"The alarms we fit have a 'night' function to set when people are in their beds.
"One of the biggest crimes we see these days is people going to their bed then waking up and their car or cars are gone.
"Folk are going to their beds, and people are entering the house and taking the car keys as they sleep, from somewhere in the house.
"If you have an alarm with a sleep function on it, that won't happen."
Paul also said that different functions on alarms such as pet immune sensors allow the alarm to be functional but won't be triggered by dogs or cats in the house. Regularly using and maintaining the alarm would also ensure it is working correctly when needed.
He also advised changing the code before and after workmen are given access to a property.
He added: "I think the message we would send out is, 'if you have an alarm, use it'.
"There's no point in having it but not bothering to turn it on.
"If you have a fault on an alarm then it tends to be intermittent, so if you're only using it once a year when you go on holiday, you won't be aware of that.
"And, for people who are spending a lot of time away from home, get a manned alarm that is linked to a police signalling system."
The Safe as Houses campaign is about empowering residents with the things they need to make sure their home is secure, so they don't need to worry about becoming a victim of crime.
Have you been targeted by a bogus caller, scammer, thief or fraudster? Contact us via email with your story at SafeasHouses@dctmedia.co.uk, or by phone at 01382 575017.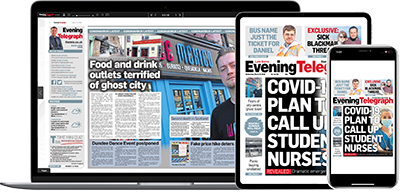 Help support quality local journalism … become a digital subscriber to the Evening Telegraph
For as little as £5.99 a month you can access all of our content, including Premium articles.
Subscribe