The Royal Bank of Scotland was forced to serve customers in its car park after a "technical fault" forced the Downfield branch to close its doors.
A spokesman for RBS confirmed the bank on Strathmartine Road was closed briefly yesterday while an engineer tried to rectify a problem with a machine.
It was unclear what the issue was but for security reasons the branch was forced to shut its doors. Nichole Millar, from Broughty Ferry, said she arrived at the RBS shortly after 2pm and saw a bank teller dealing with transactions outside.
The 25-year-old said: "As I walked into the car park there were quite a few people standing outside. I thought they were waiting to use the cash machine so I walked past. The bank door was closed. A woman that works at the bank was standing outside. She asked me if I was paying in which I was.
"She said she'd take it and bring me a receipt.
"The teller rang the doorbell before a lady from the bank came to the door, only opening the door slightly.
"She took what I had to be paid in and went inside.
"Other people were arriving at the bank and were handing over money and their cards and she was ringing the door bell.
"Staff were running back and forward answering the door and coming back with receipts."
Nichole said other customers came into the car park asking if it was still closed.
She added: "When a customer came back and asked that, it made me think they had been closed earlier as well. Eventually the woman came back with my receipts and I left."
A Royal Bank spokeswoman said: "Customers were briefly unable to access the branch, while a small technical fault was fixed. Given the weather, staff were keen to support waiting customers by continuing as near to normal service as possible."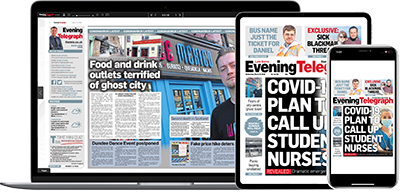 Help support quality local journalism … become a digital subscriber to the Evening Telegraph
Subscribe